Creating Inbound Shipments
Creating high-quality Inbound shipments will help expedite the receiving of your SKUs and avoid issues that may lead to delays. The step by step instructions and video below will demonstrate how to create Inbounds.
Note: Please make sure your products are properly prepped before shipping your inventory. Review the Preparing Inbound Shipment Guidelines before getting started,

especially if you intend to ship mixed cases

.
Video Walkthrough
Video Timestamps
Jump directly to a specific part of the Video:

| | |
| --- | --- |
| 0:00 | First Steps |
| 1:00 | Ship From |
| 1:17 | Adding Products |
| 1:42 | Adding New Products |
| 5:16 | Shipment Method |
| 5:39 | Packing Information |
| 6:35 | Conversations Feature |
| 7:06 | Barcode Labels |
| 7:30 | Shipping Documentation |
| 7:51 | Mark In Transit |
| 8:05 | Received Notes |
Important: Before sending inventory to Cahoot, your Inbound Shipment

must be approved

and assigned to an address. Use the following steps below to create your inbound and submit it for approval.


Step-by-Step Guide
1. In your Cahoot account, go to Work Orders > All Inbounds.

2. On the Assigned to Partner tab, click Add New Inbound.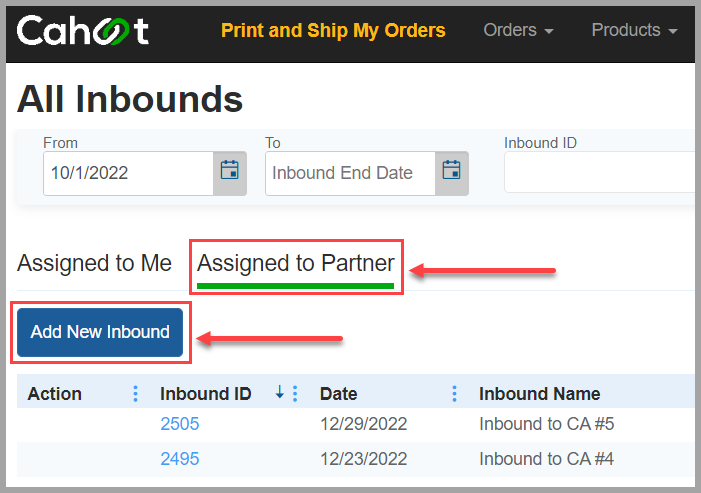 3. Create a unique Inbound Name and choose an Estimated Ship Date.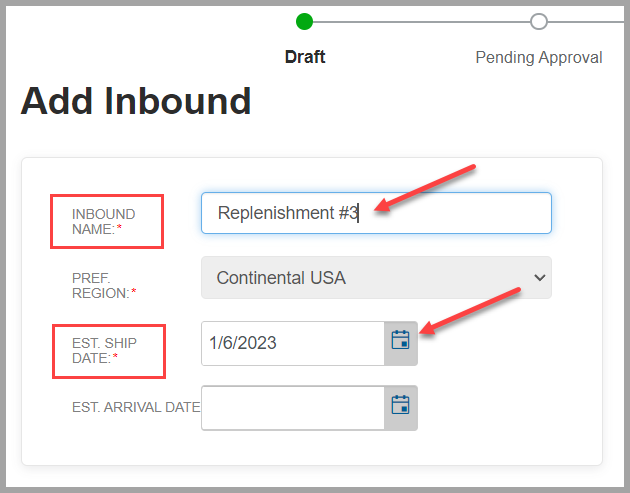 4. Tell us about the pick up location. E
nter the

Carrier Pickup Date (shipment ready date), the warehouse Pickup Hours, and let us know if the pickup location requires a Liftgate or has any Limited Access requirements.



Note: By default, all inbounds are scheduled using Cahoot's Partnered Carriers. To use your Own Carrier account, it must be approved by Cahoot in advance.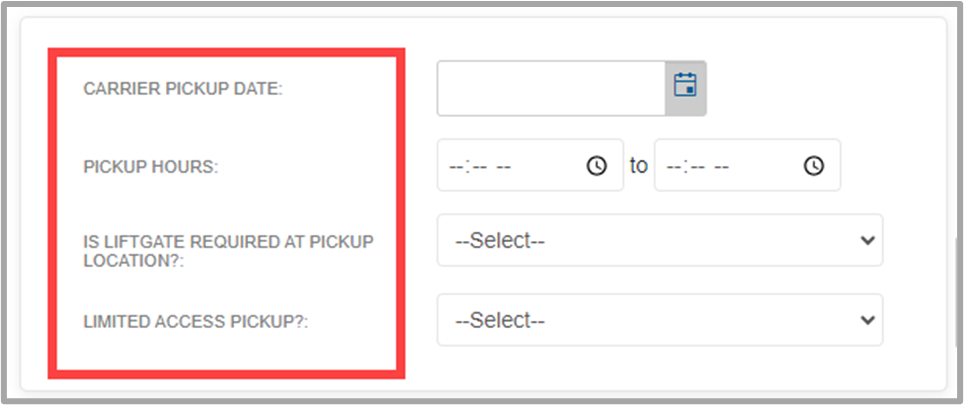 5. Add the Ship From (origin) address. 
Note:  If you're shipping from your primary warehouse, click the Use Default Address checkbox to auto-fill your address. This is the address configured in your Cahoot Account.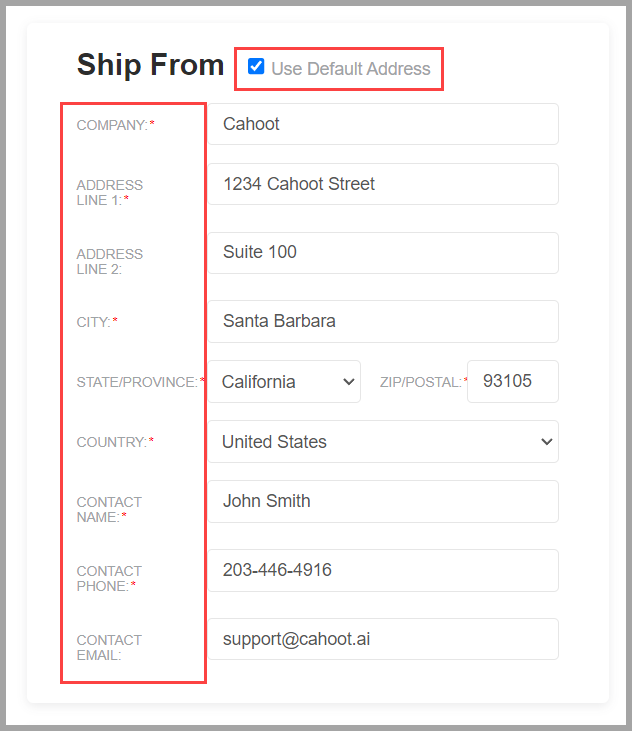 6a. Add Items to your Inbound by entering the SKU and/or Barcode and clicking Add Item, or simply leave these fields blank and click Add Item to search your Product Catalog or to add SKUs in bulk.
Note: If your Barcodes are NOT configured in Cahoot, then only enter the SKU value and click Add Item. If you leave both fields blank and click Add Item it will open the Search and Add Items window as shown in step 6b below.

6b. In the Search and Add Items window, use the top filters and click Go to find specific items in your Product Catalog. Then use the checkboxes on the left to multi-select SKUs and click Select and Add to add the SKUs to your Inbound in bulk. 
Note: If you use the top filters to search for a specific SKU, make sure to only use one filter at a time for the greatest likelihood of success. Click Go to search.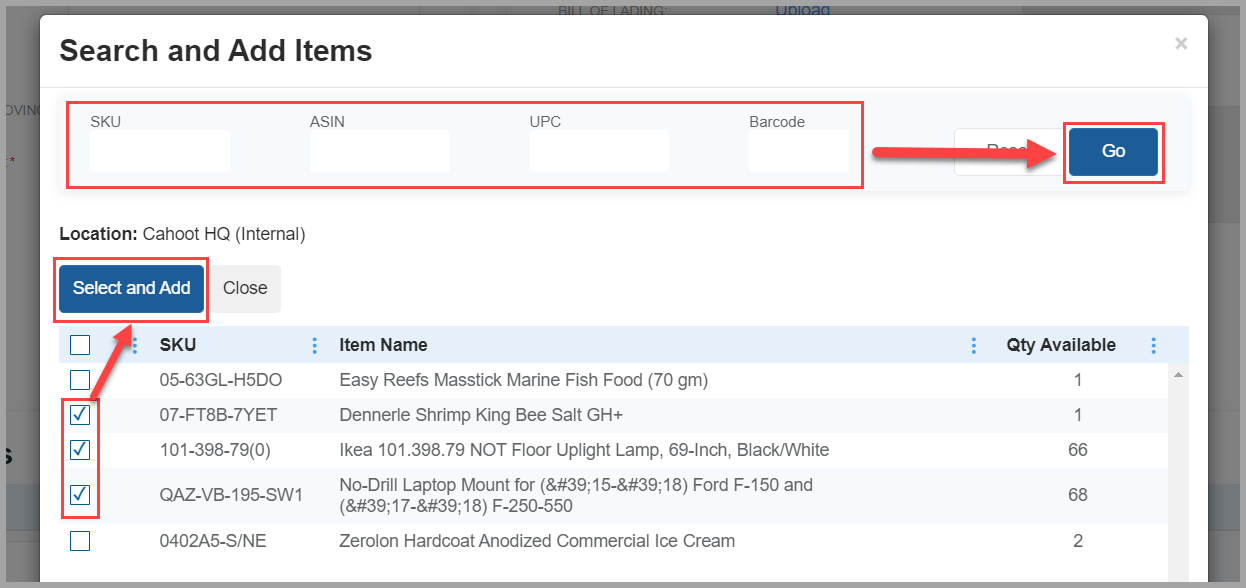 7. If you don't see your product on the list, you can quickly create a new SKU by clicking Add New Product on the same Search and Add Items window.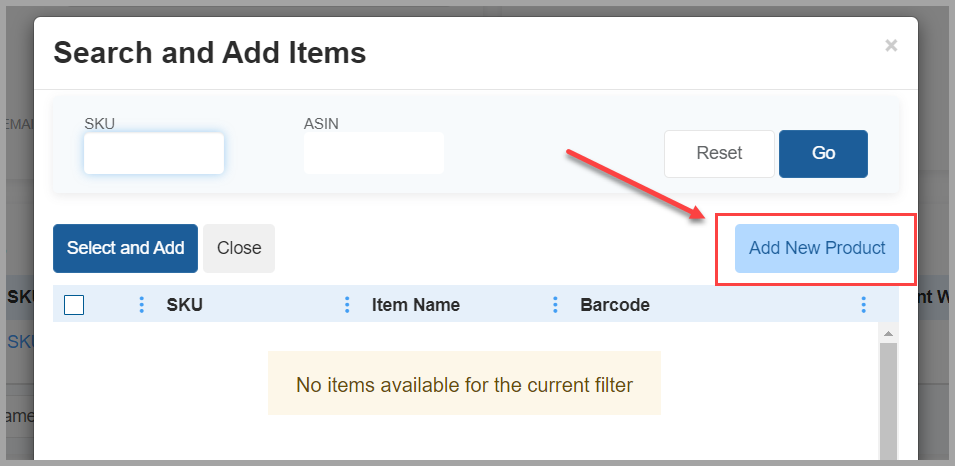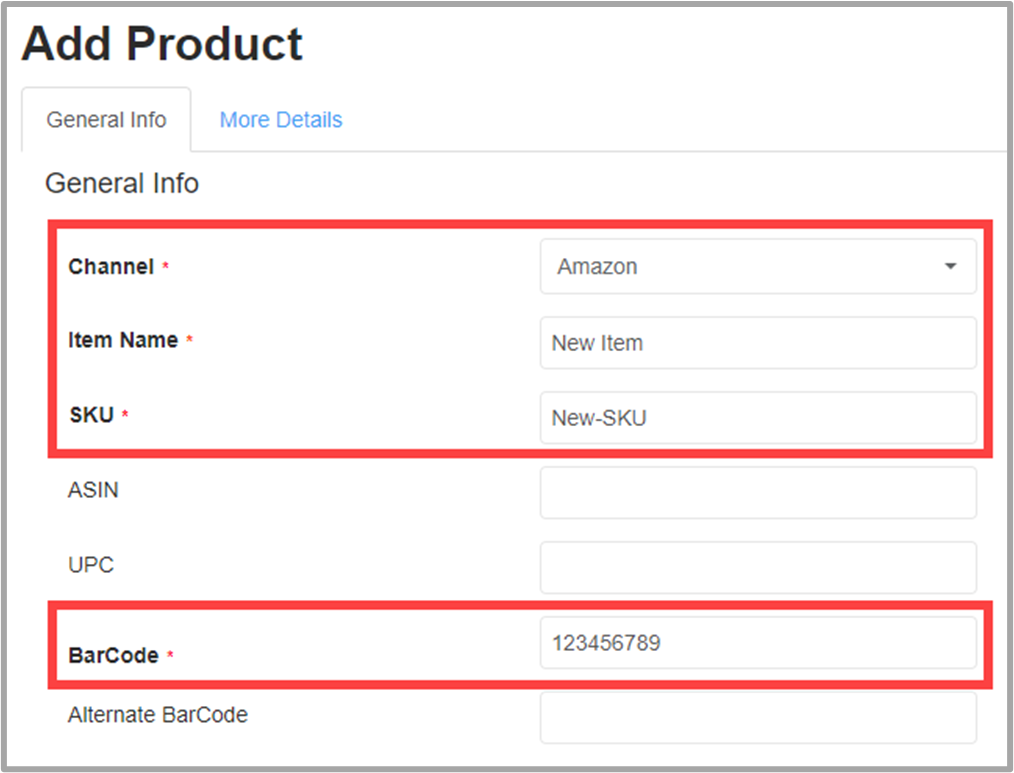 8. After creating the new product, go back to your inbound and enter the SKU Name in the top filter of the Search and Add Items window and click Go. Select the checkbox and click Select and Add to add the newly created product to your Inbound.

9. If you did not enter the barcode value when first creating your new product, enter it now by clicking the Edit Product link on the Inbound page which will open the Edit Product page.
Important:

Additional processing fees will apply

if items are received MISSING Barcodes. Besides delaying Receiving, you will need to create an Inventory Prep Work Order to have the items barcoded AFTER your inbound is Received and items are live in Cahoot.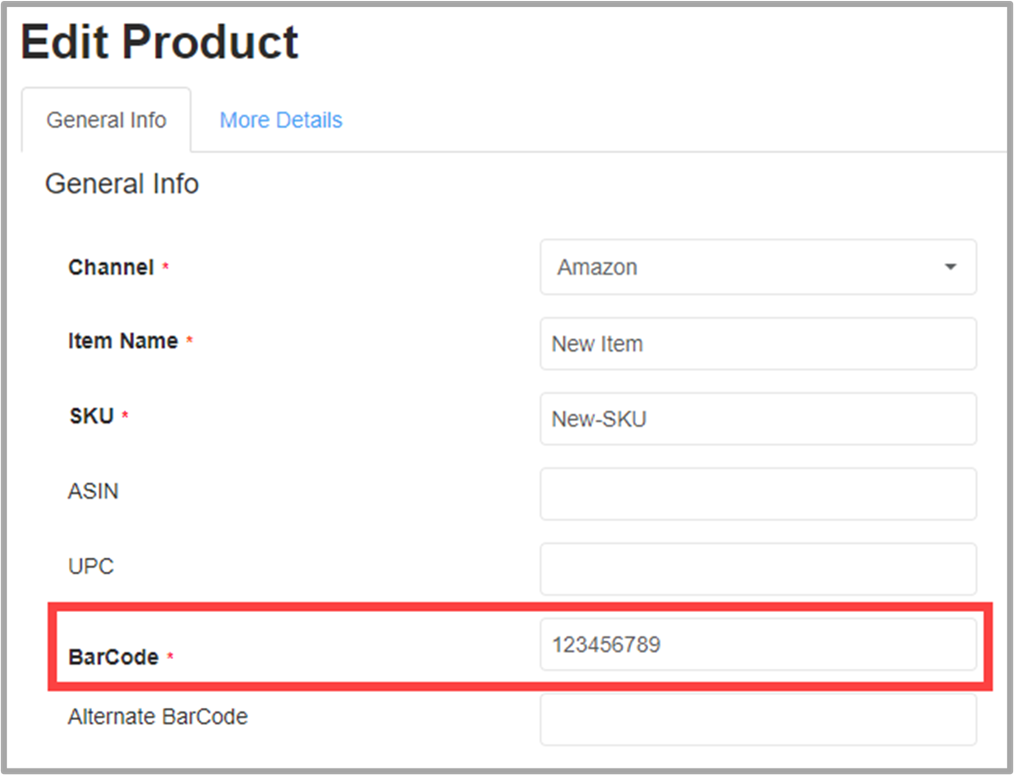 VERY IMPORTANT: DO NOT REFRESH the Inbound page thinking that the barcode that you just configured for the product will be displayed or

you will

lose all your work! Instead, fill out the rest of your inbound, and when you Save as Draft or Submit Inbound, these previously missing barcodes will be automatically updated. Don't worry that you don't see them on the Inbound screen now.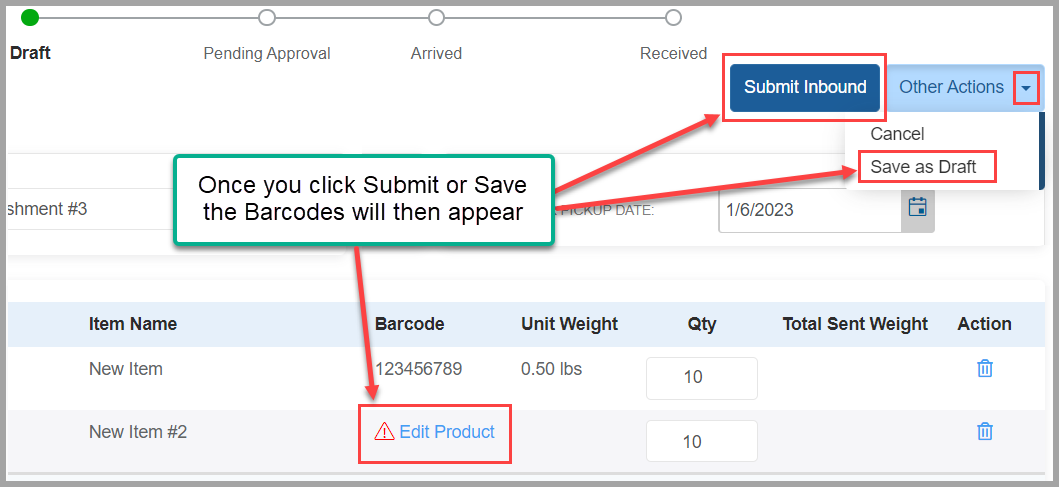 Note: Once the Inbound is approved and moves from Pending Approval to Approved status, it cannot be edited. Any SKUs still missing barcodes could get stranded and require extra receiving time to resolve. I
t's best to enter your barcodes upfront, but if you don't know one, or you're missing any other important details, click Save as Draft and come back to it later.
10. Enter the Quantities of each SKU that you're shipping to Cahoot.
11. Select whose Carrier Account you will ship on, the Shipment Type (Parcel, LTL, etc.), and how much Shipment Insurance you need, if any.

12. Under Packing Information, click the Add Box/Pallet button and enter all the Box Dimensions (Length, Width, Height, in inches) and Weights (in pounds), and the Quantity of each you are shipping for Parcels. Likewise, enter all the Pallet Dimensions (Length, Width, Height, in inches) and Weights (in pounds), and the Quantity of each you are shipping for Pallets. The Total Weight will be summed automatically if you are sending multiples of the same dimensions & weight, so make sure you're adding individual parcel or pallet weights.
Note: For shipping Pallets, enter the Freight Class and NMFC Code. If you don't know the NMFC Code, enter a simple description of the most common components of the load (Plasticware, Glassware, Food Stuffs, etc.). 

Important: The Carrier can add an upcharge on the final freight invoice if the load does not match the exact specifications provided under the Packing Information section. Please ensure the correct pallet information was entered. 
13. Check the box to Certify that your inventory will arrive prepped according to the Prep Guidelines, OR, that you are planning for Cahoot to provide the prep services and invoice you accordingly, (prep would be any barcoding, bagging of spillables, bubble wrapping, etc.). Lastly, either click Save as Draft to come back to your Inbound later, or click Submit to request approval.

14. Click Yes to Confirm.
Note: Reminder that once an Inbound is Approved,

it cannot be edited

. Make sure it's accurately filled out before Submitting for approval. 

15. After you Submit your Inbound, a Conversations panel will be displayed at the bottom of the page. Add a message requesting approval for the inbound.
Note: All communications about your Inbound will be done through these Conversations. Email notifications will be sent to the Cahoot Account Login Email whenever there's a new conversation message.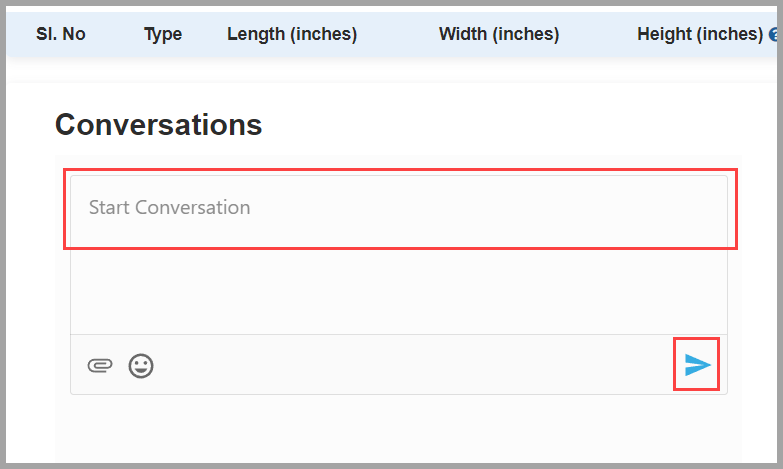 16. After submitting your Inbound, you can print an Inbound Summary for your records, print Barcode Labels if units need to be barcoded before shipping to Cahoot, or print Box and Pallet Labels to affix to your Inbound shipment.

17. If Cahoot has scheduled the carrier pickup, the Pallet Bill of Lading or Parcel Shipping Labels, the Freight Amount and Tracking Info will all be added to the Shipping Documents section of the Inbound page and you will be notified via Conversations.
Note: The Inbound ID will be listed as the PO # on the BOL (e.g. WO-1234). Please have both numbers ready (PO# and BOL#) upon pickup as the driver may ask for them.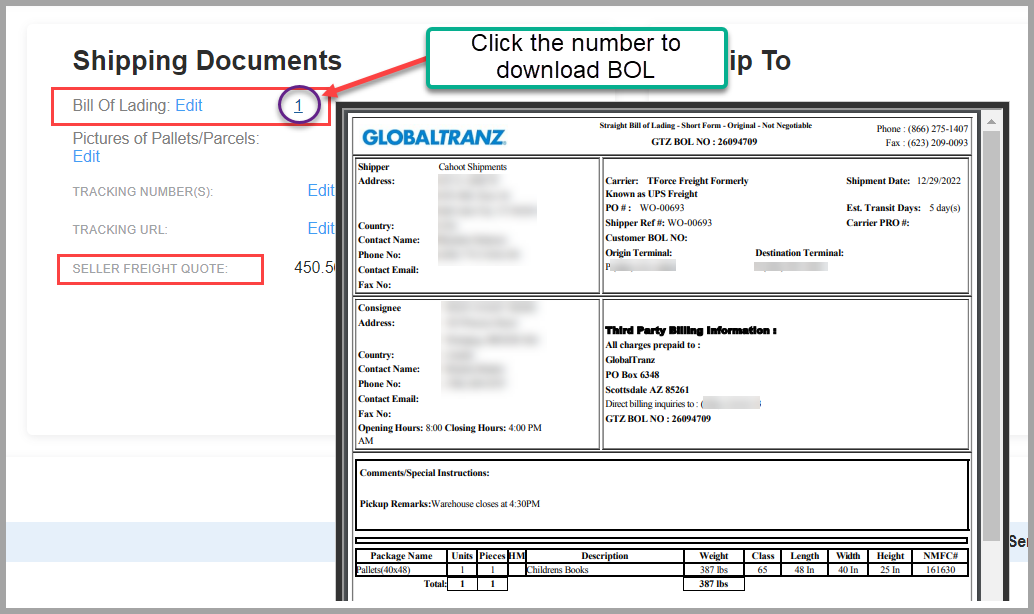 18. If you are scheduling the pickup on your own carrier accounts, it is your responsibility to upload these Shipping Documents well in advance of delivery to Cahoot and sending a Conversations message notifying us about the update. Add the Shipping Documents by clicking Edit next to respective document, then click the Upload link to open the Upload window. Select your files and click Submit. Make sure to enter tracking number(s) in the text fields and click Save.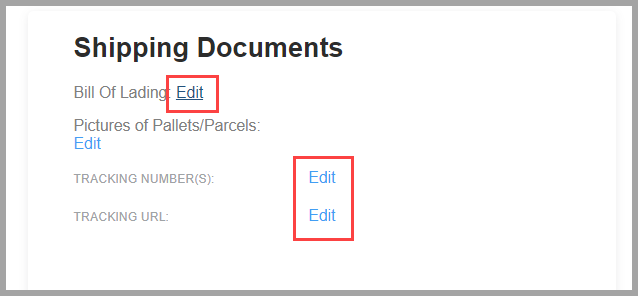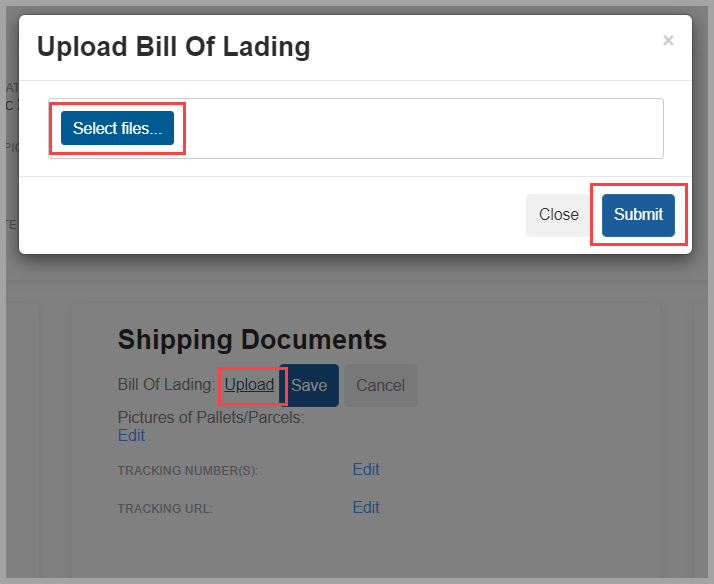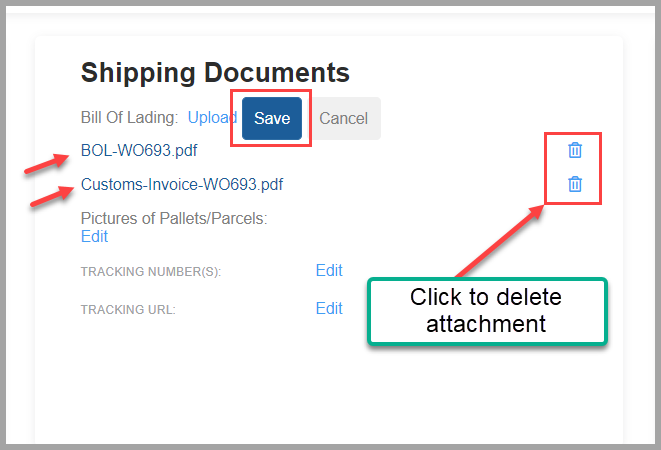 Important: If you are scheduling your own pickup, please make sure the Inbound ID is added to the BOL reference line for Pallets or the outside of each carton for Parcel. If needed, you can print certified Box and Pallet Labels from the Inbound page. Additional Receiving fees will apply to Inbounds not labeled with Cahoot Inbound ID.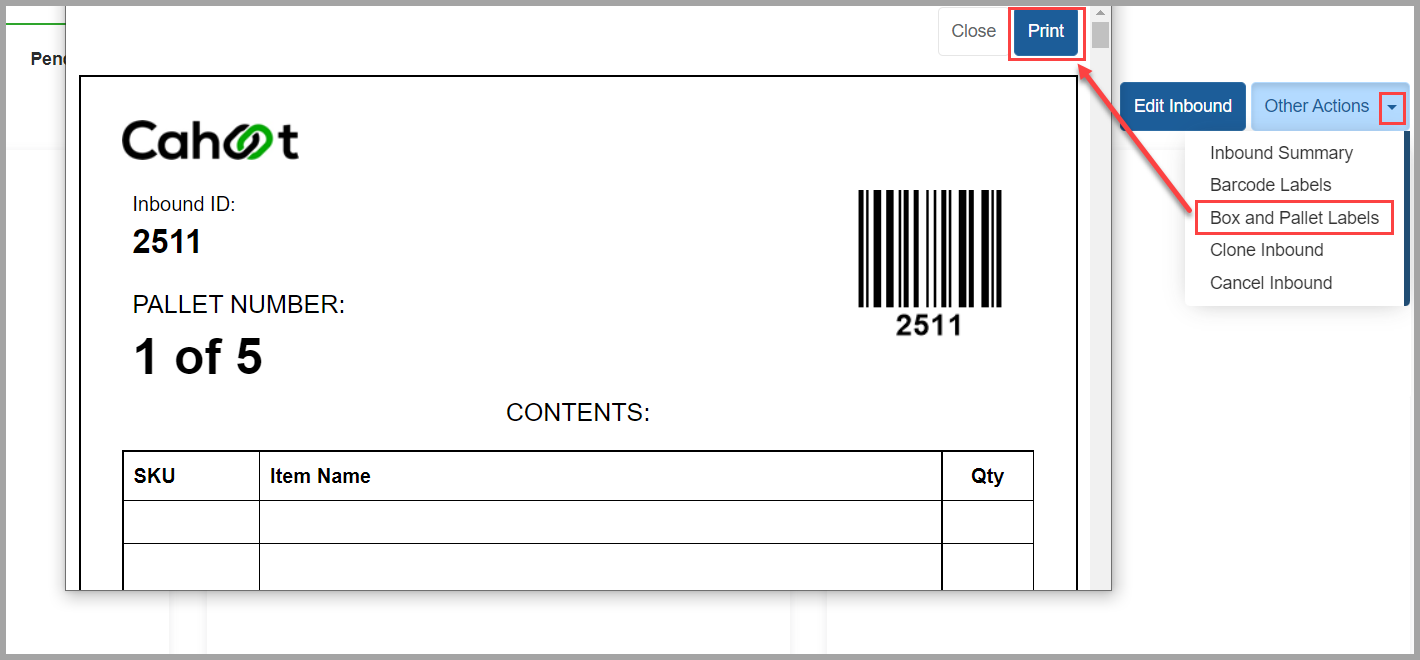 19. After the shipment is picked up from your warehouse, come back to the Inbound and click Mark as In Transit.

20. Click Yes to confirm.
Note: If you don't Mark as in Transit, the warehouse cannot begin Receiving the shipment when it's delivered. It is very important that this is done to prevent receiving delays. 

21. Lastly, you will be notified via Conversations message when your SKUs are LIVE in and fulfillment ready so you can update your listings accordingly.
Note: We recommend always listing your SKUs with buffer quantity/safety stock. Read more about Partner Reserve Quantity.