The following instructions will help you Create Products in Cahoot and walk you through your configuration options such as international shipping, adding Alias SKUs, and advising on some of Cahoot's more advanced order fulfillment features.


Video

Walkthrough



Video Timestamps
Jump directly to a specific part of the Video:


| | |
| --- | --- |
| 0:00 | Opening Notes |
| 0:55 | Add New Product |
| 2:53 | Product Dimensions and Weight |
| 3:36 | Special Instructions |
| 3:49 | International Shipping |
| 4:23 | More Details (Optional) |
| 4:40 | Alias SKUs |
| 5:33 | Package Data |
| 6:17 | Add New Packaging |
| 7:55 | Additional Options |
Step-by-Step Guide
1. Log into Cahoot and go to Products > All Products.


Note: If your Amazon store is connected directly to Cahoot, your product catalog will automatically be imported, but only for the Amazon channel at this time.
When Cahoot imports an order for a SKU that doesn't already exist in Cahoot, the product will be created automatically. It will need to be enriched with Barcode, Bin Location, and other metadata that may be important to you, but the core product will be created using the SKU details received from the Sales Channel. In the absence of one of these scenarios, the products will have to be created

manually.
2. Click Add New Product.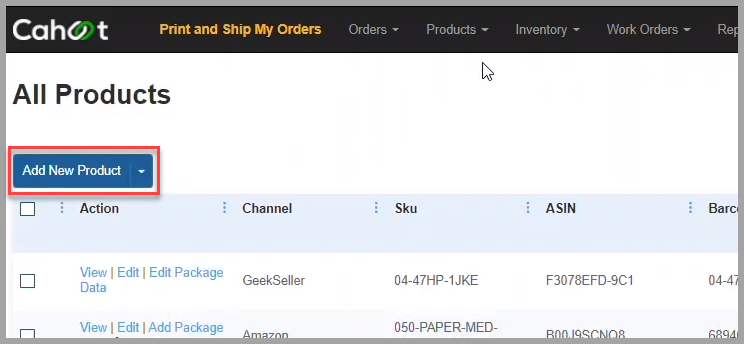 Note: If you are in the middle of Creating an Inbound, you can also get to the Add New Product page by clicking the Add New Product button on the Search and Add Items window.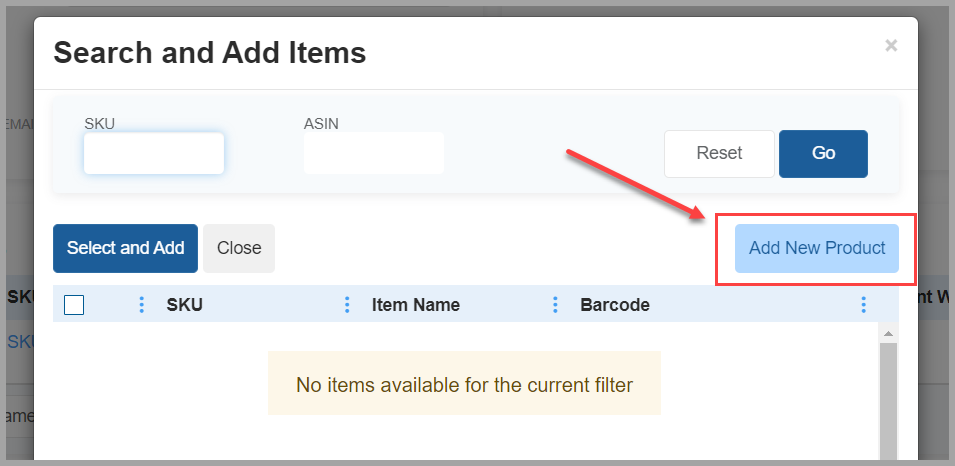 3. Required Field: Select your primary Channel, (i.e. from which channel(s) is Cahoot receiving orders for this SKU).

If you sell this SKU on multiple channels integrated directly with Cahoot, and any one of them is Amazon Seller Central, then always select Amazon.

4. Required Field: Enter the Item Name.
5. Required Field: Enter the SKU (aka Master SKU or Primary SKU).
SKUs are unique per Sales Channel. You shouldn't have 2 SKUs named the same regardless, as that is not a best practice.
6. Required Field: Enter the Barcode value
Barcodes must be unique across your products.
Important:
The SKU Name you enter must match exactly to the SKU value in your Sales Channel unless it's an alias SKU. The
Master SKU
value
cannot
be changed after the product is created so it's important to double check you entered the correct SKU values.
If you have other SKU values that you sell this product under, you'll need to add them as Alias SKUs. Alias SKUs MUST be added BEFORE your orders are imported to Cahoot, or the Alias SKU will get created as a stand-alone product, and Cahoot won't recognize the order as fulfillable
7. The following optional fields are added to Pick Lists and Packing Slips to help with fulfillment accuracy.
a. UPC

b. Bin Location
c. Size, Color, Flavor, and Scent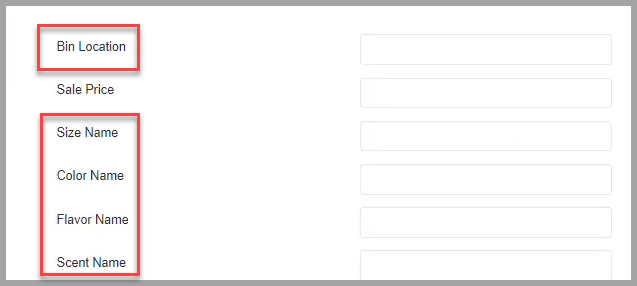 8. Enter your product

Dimensions (

inches

) and

Weight

(

pounds). This product data is used by our 3D Package Selector Tool that picks the optimal box for your shipment based on the physical size of your product.

These product dimensions are NOT used for shipping label creation unless the SKU ships via Original Manufacturer Package.



Note: The product Dimensions and Packaging fields are required for product creation, this data

must be filled out

if you are sending inventory to the Cahoot Network. Your inbound will NOT be approved unless this data is properly entered.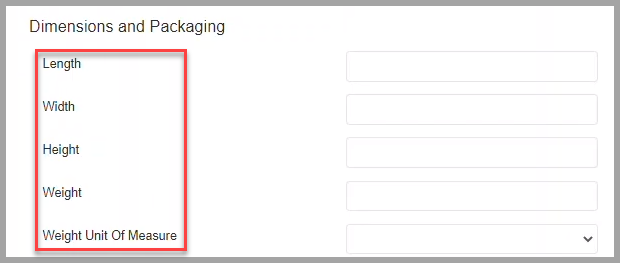 9. Select one of the options from the Preferred Packaging drop down. This is the packaging type you suggest we use for shipping the item. Hover over the help icon for details about each package type.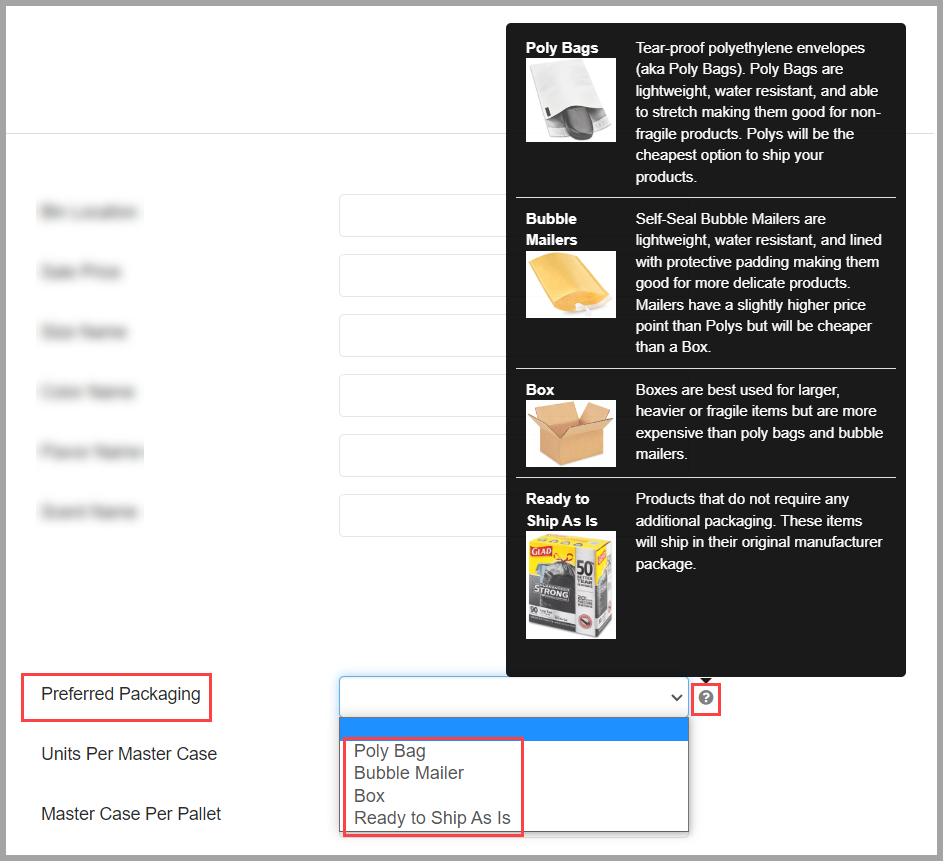 10. Enter Units Per Master Case, Master Case Dimensions, and Master Case Weight, which is needed for digital Cycle Counts (i.e., 24 single units fit inside one master case/carton).
Note: The Master Case Dimensions and Weight fields are required for product creation. If you do not have standard case packs, simply enter "1" as Units Per Master Case and leave the Master Case Dimensions & Weight blank and use the checkbox at bottom of the page to Save.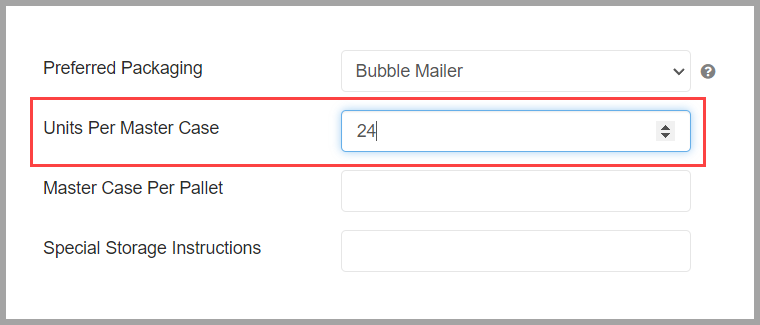 11. If needed, enter Special Storage/Handling Instructions (i.e., fragile, storage temperature, etc.). If left blank, the product will be shipped/stored at Cahoot's sole discretion.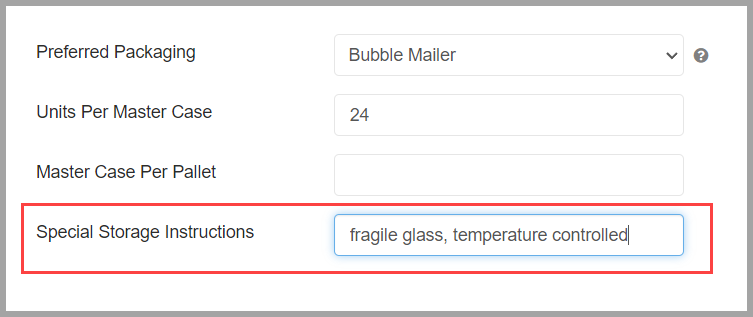 Important: If unable to enter all of the required data, select the checkbox at the bottom of page and click Save. This checkbox will override any missing data for required fields, but

please be aware that missing required product data can result in receiving delays and incur higher costs

.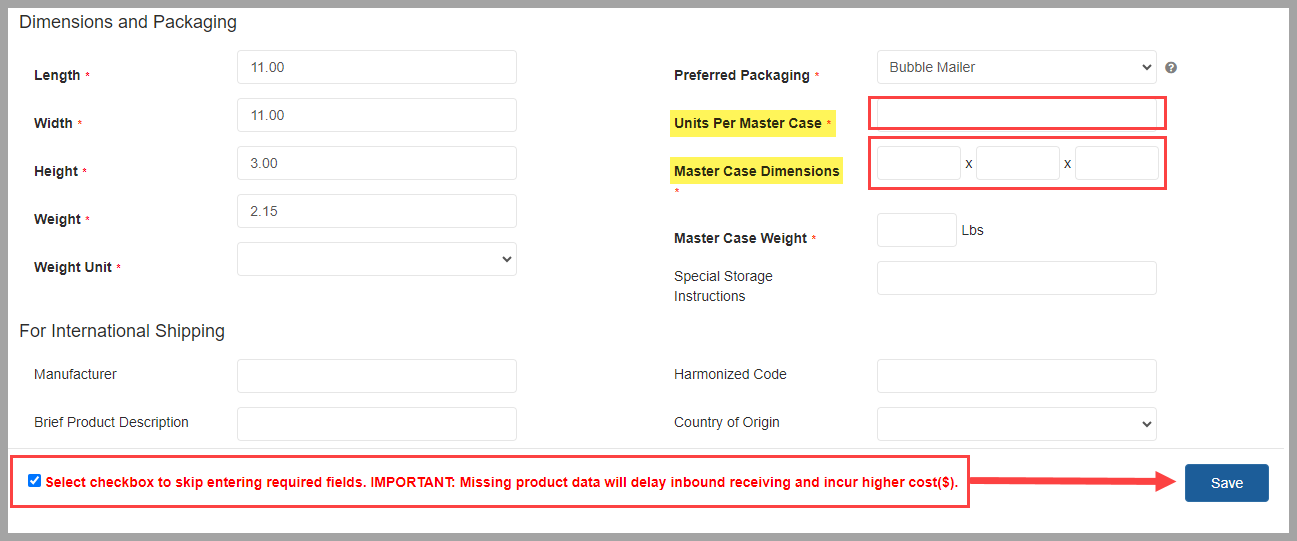 12. If needed, enter Hazmat information for this product under More Details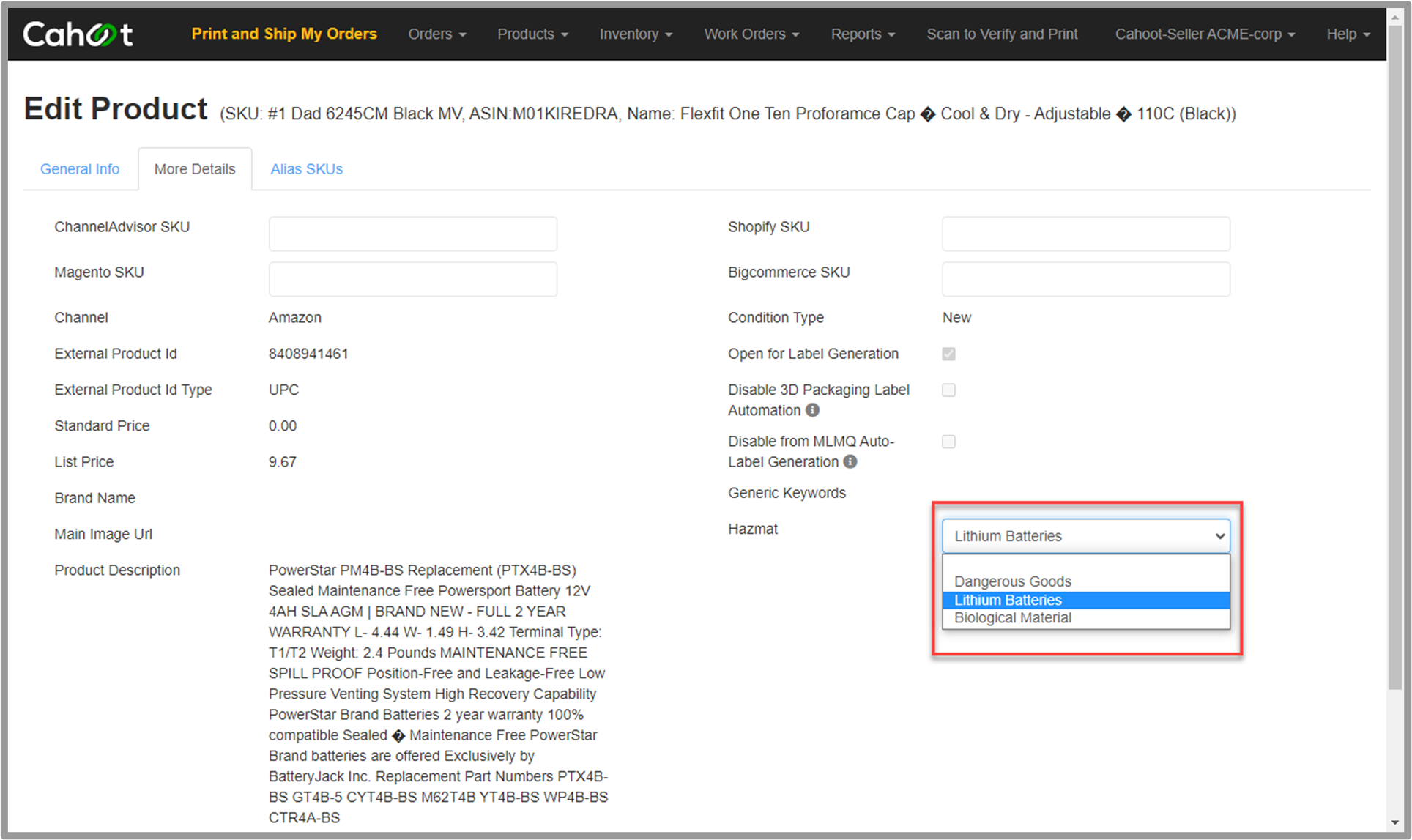 Important:
All hazardous materials SKUs need to be properly updated with hazmat values. Failure to comply with hazmat requirements can result in refused shipments, or penalties and fines, both from your mail carrier and Cahoot.
International Shipping
Note: To add international shipping data to products, navigate to the All Products grid and search for the respective SKUs. On the All Products grid, select [Show Filters] in the top right > search using any top filter, click Go > find SKU and select Edit > scroll to the section called, For International Shipping and follow the steps below:
12. If any of your Cahoot SKUs will ship to international addresses, make sure to add the following information that is required for customs declarations:

a. Manufacturer
b. Product Description (this should include product materials and color)
d. Country of Origin

13. Click Save to create your new SKU.


Adding Alias SKUs
IMPORTANT: The most important point to make about Alias SKUs is that they MUST be added BEFORE an order for the alias SKU is imported into Cahoot, or it will be created as a new unique product, and Cahoot won't recognize the order as fulfillable (if applicable). Learn more about Configuring Alias SKUs if they were not added before orders were imported to Cahoot. Otherwise, follow the steps below:
14. Go to Products > All Products, and click Edit in the Action column next to the SKU you are updating.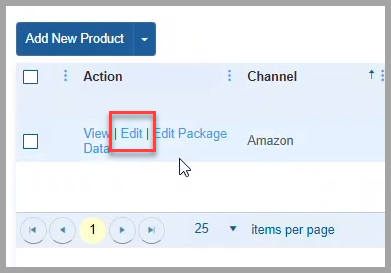 15. On the Alias SKUs

tab, e

nter the Alias SKU(s), Item Name(s), and if this SKU is being sold on Amazon, enter the ASIN

.

Click Save

.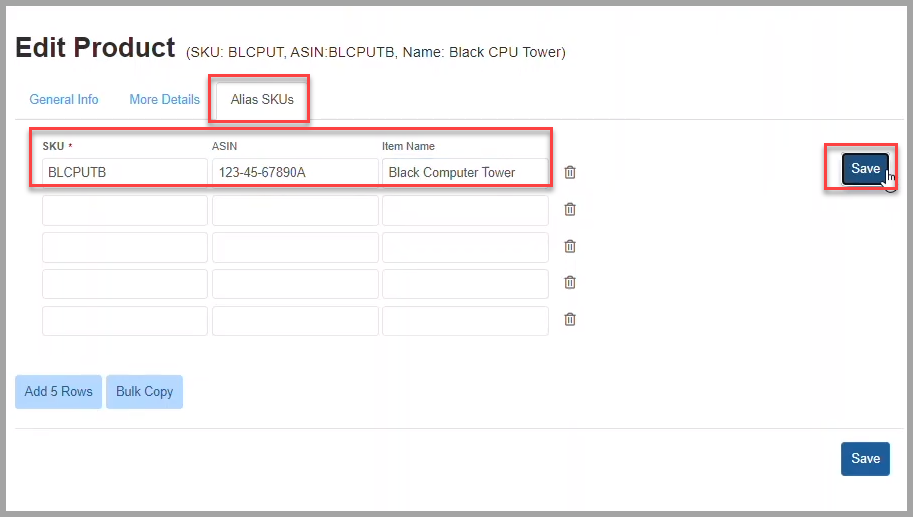 16. Lastly, make sure to Add Package Data for the SKU if you're using Cahoot Order Fulfillment Software. It can be entered now following these instructions, or it can be entered progressively in the SKUs Missing Package Data section of your Cahoot Dashboard as you receive your first orders for newly created products.

More SKU Details (optional)

Aside from the Main Image URL and Condition Type, these fields are optional and generally considered rare. Only Channel SKU fields are editable after the product is created, so please enter this data cautiously.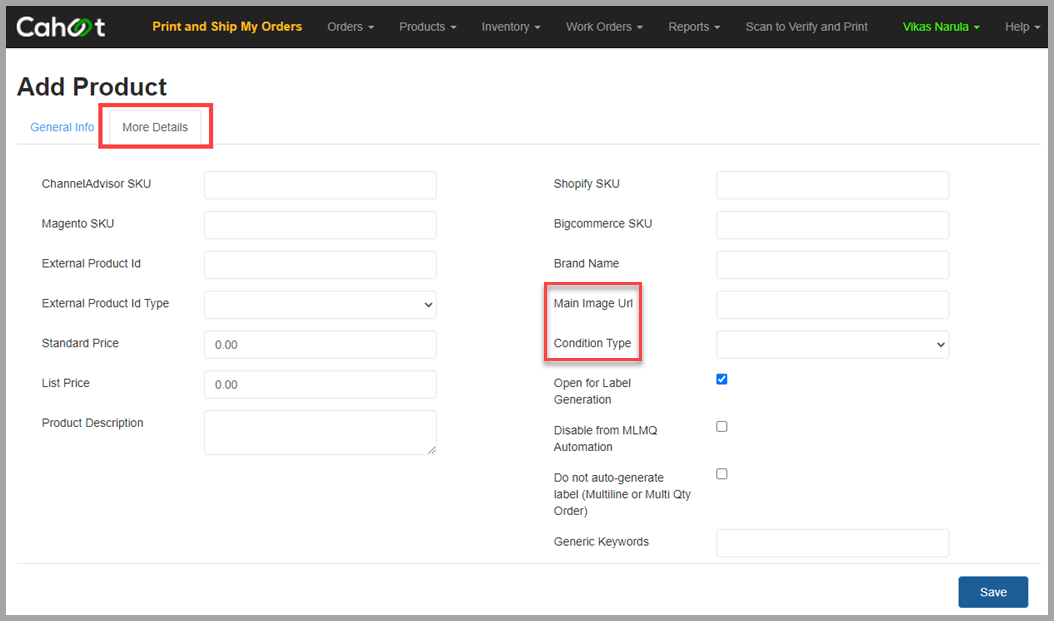 IMPORTANT: You can enter additional Channel-specific SKUs for ChannelAdvisor, Shopify, Magento, and/or BigCommerce, but you must also add them as Alias SKUs. Entering Channel SKU fields without also adding them as Alias SKUs will cause new unique SKUs to be created that are not mapped to the Master SKU. To avoid any confusion and to save yourself the extra step, it's best not to add any additional Channel SKUs in these fields. Instead, add them only as Alias SKUs.
External Product Id allows you to enter an alternate ID such as ASIN, UPC, or ISBN.

External Product Id Type defines the External Product Id entered above.
Standard Price is the master price before any discounting or coupons are applied. This is the price upon which all other pricing is based for this product.
List Price is the MSRP.
Product Description is how you would describe your product.
Brand Name refers to the manufacturer's brand (Nike, Champion, etc).
Main Image Url is a link that leads to the product image as displayed on your website or sales channel. This provides a very helpful visual for pick accuracy during fulfillment.
Condition Type specifies the condition the customer should expect to receive the product such as New, Used, Refurbished. Most products are sold as new, so the Condition Type can be left blank if it is New. See a list of generally accepted Product Condition Guidelines.
Open for Label Generation is checked by default. This means that any order containing this SKU can have a shipping label created for order fulfillment. If this box is unchecked, orders for this SKU will be Excluded from all workflows in Cahoot, including shipping label creation.

Disable from MLMQ Automation, when checked, prevents shipping labels from being created automatically for Multi-Line and/or Multi-Quantity orders containing this SKU, even if an identical successful prior shipment exists in Cahoot. All orders containing this SKU will go into Manual Review.
Do Not Auto-Generate Label (Multi-Line or Multi-Qty Order), when checked, disables the 3D Packing Tool that picks the optimal box for your shipment based on the physical size of your products. Shipping labels will not be created automatically UNLESS an identical successful prior shipment exists in Cahoot. Only then, Cahoot will use the successful prior shipment data to automatically create shipping labels for MLMQ orders for this SKU.
Generic Keywords are used to search for this product within the Cahoot software.
Make sure to Save your work.
Very Important! Please contact Support before checking or unchecking any of these settings as these will have a material impact on how your orders are processed.