How to Process Cycle Counts
Cahoot requires all Fulfillment Partners to participate in auditing/counting physical inventory every second week. This is a targeted count of specific SKUs based on Cahoot metrics; this should only take an hour, and Cahoot will reimburse you for this time.
Discrepancies (positive or negative) from each Cycle Count will appear on the Lost and Found Inventory Report.
Video Walkthrough
Step-by-Step Guide
1. Acknowledge Cycle Count 
Cahoot will notify you when the Cycle Count is due, and redirect you to the Cycle Count page automatically. The default time for this is Thursday afternoon, after all shipments are completed for the day and picked up by the Shipping Carriers.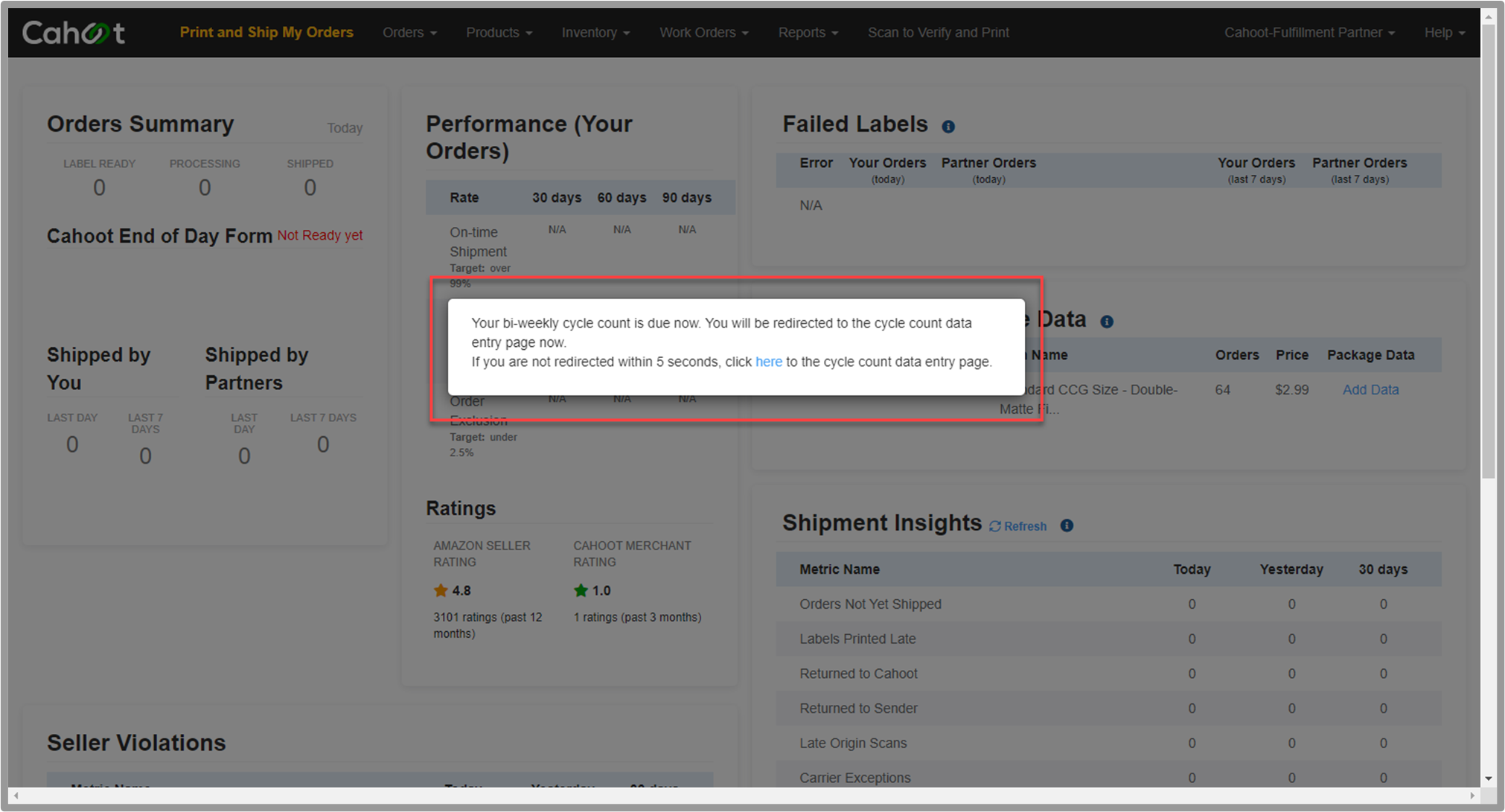 You can also access the Cycle Count page via the top Navigation under Inventory > Cycle Count List > Approved Cycle Count
Once you arrive on the Cycle Count page, Acknowledge Cycle Count to begin the Cycle Count process.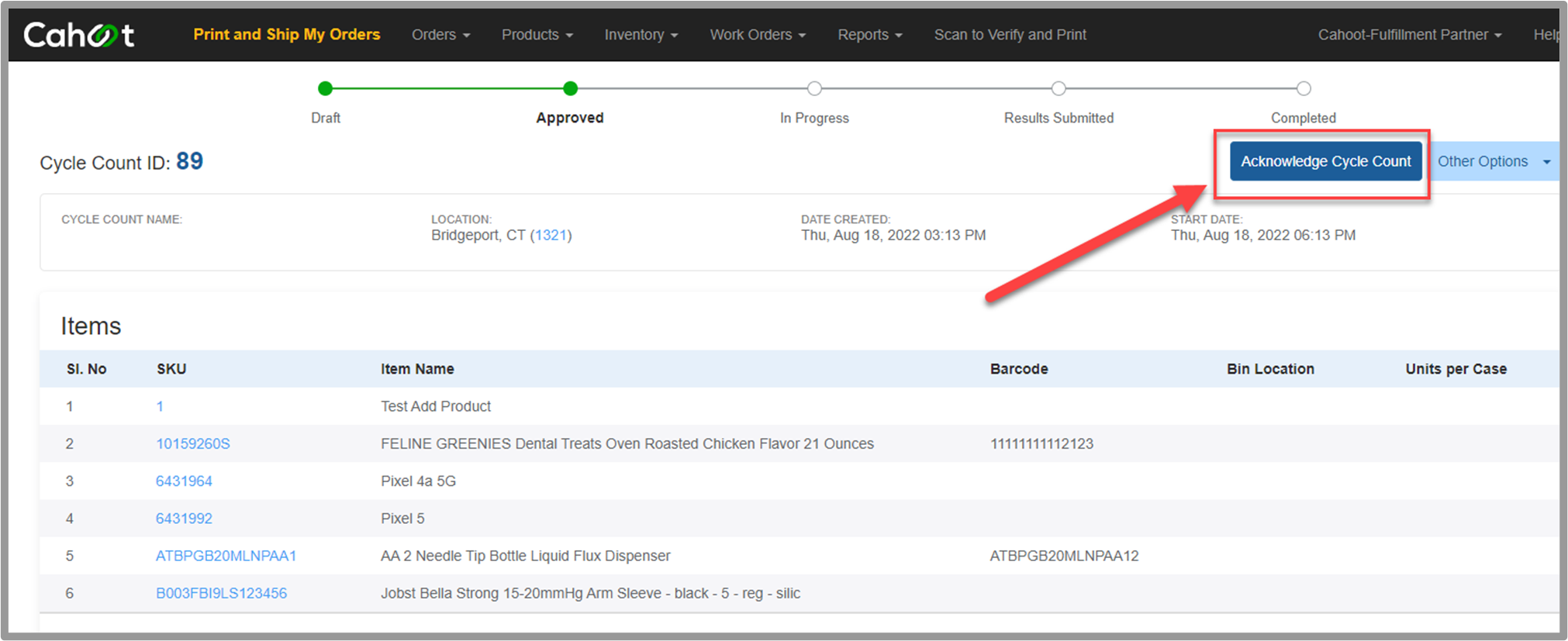 2. Count Qty on Hand for Designated SKUs
Count each SKU's individual units as well as any case packs or multi-cases. Multiply out the result to get the total Qty on Hand (you don't have to open and count each sealed case).
You can also print out a physical copy of the Cycle Count if needed, under Other Options > Print.
Note: Ensure you check each BIN Location; sometimes SKUs can be in multiple locations. 

3. Record Qty on Hand results in Cahoot
Fill in the Cycle Count Qty on Hand values for each SKU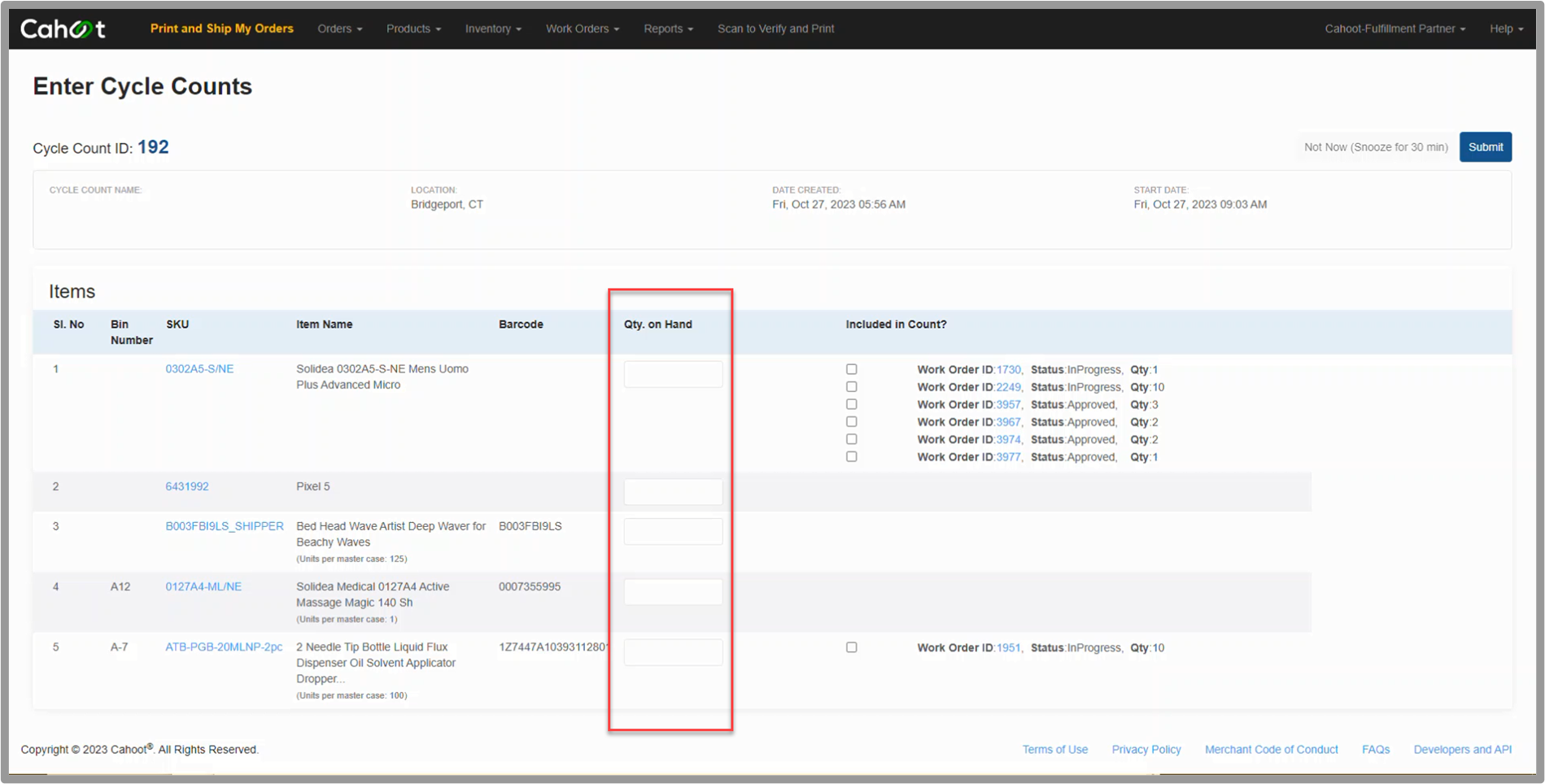 On the right are the open Work Orders for each SKU. As these Work Orders are in progress, inventory may or may not have been taken out of BINs. Review each Work Order, and check the box for each Work Order that has SKU Qty removed.
For example, here we see SKU 0302A5-S/NE has 88 Qty on Hand. There are 6 open in progress Work Orders, of which two have the assigned SKU qty already removed. However, for 4 Work Orders, the assigned SKU 0302A5-S/NE Qty is still in the BIN and is part of the 88 Qty count.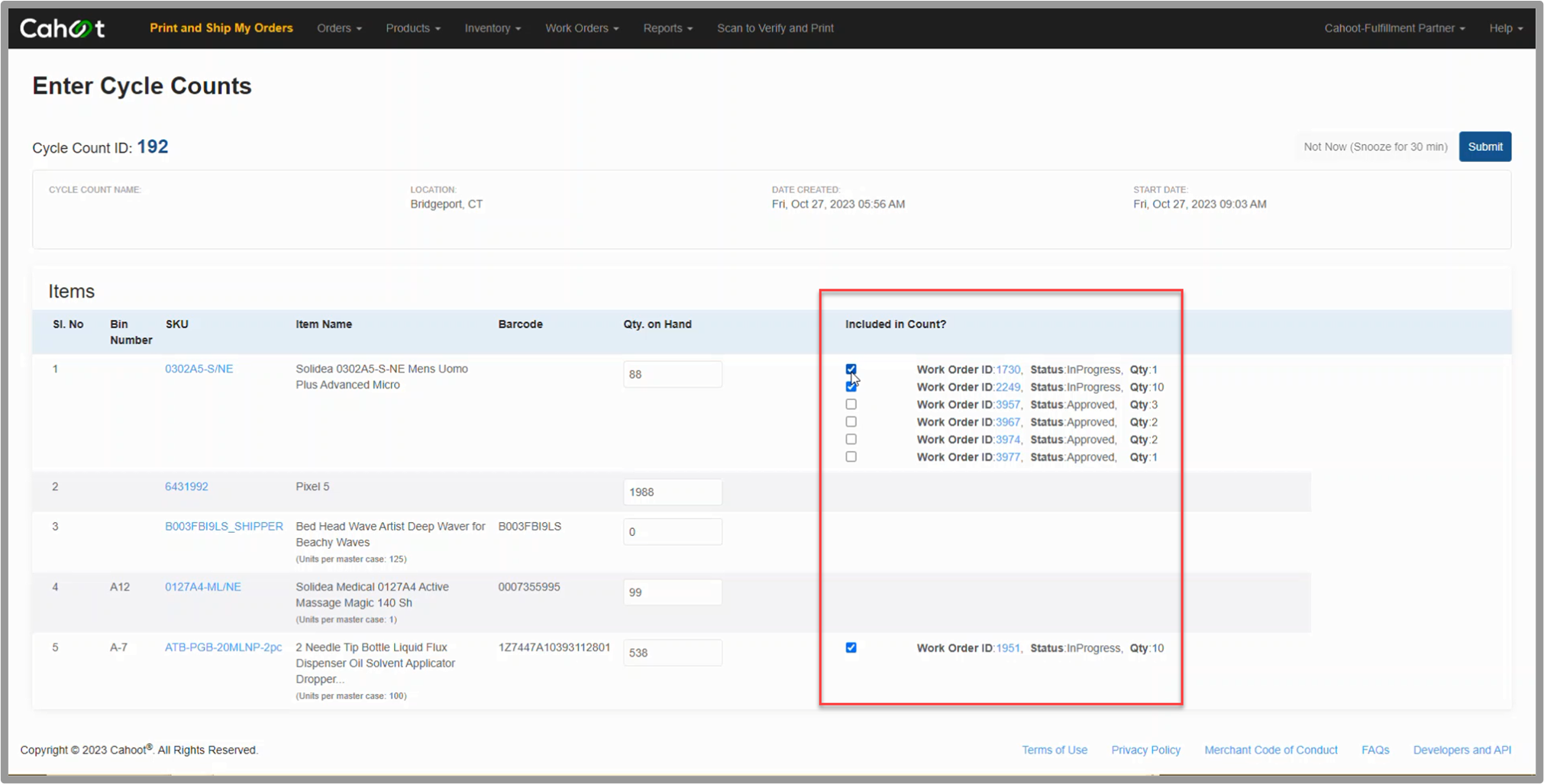 Once all SKU Qty on Hand has been reviewed and confirmed, Submit.
4. Recount any discrepancies
If Cahoot finds a discrepancy between the physical count and the expected Qty on Hand, the Cycle Count report will ask you to recount the discrepant SKUs one more time.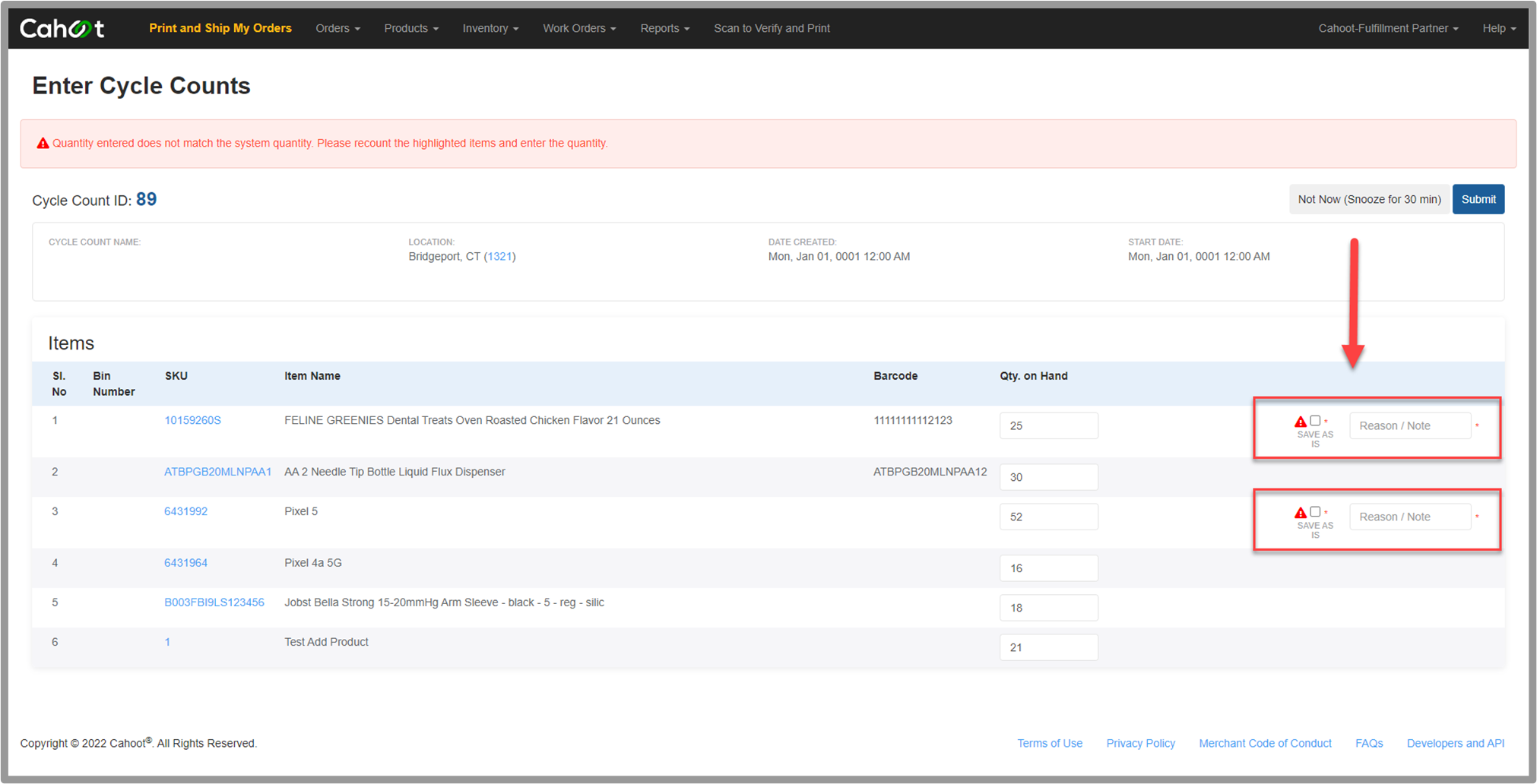 Please recount, and d on't forget to check behind, around, and in nearby BINs to ensure no product was misplaced or unnoticed.  Update the Qty on Hand results as needed.
If you are certain the Qty on Hand counted is physically correct, check the Save As Is checkbox, and enter in an explanation into the Reason / Note field.
Once done, Submit.
Discrepancies (positive or negative) from each Cycle Count will appear on the Lost and Found Inventory Report.