International Shipments require customs forms for importation by the receiving country. Some carriers like USPS, encode all the customs declarations within their shipping label, while others require separate pages are printed and affixed to the shipment. Learn more about what's required to complete successful International Shipments below.
Note: International Forms are required for any International Order that needs them. As a Cahoot Fulfillment Partner, your team will need to ensure all forms are printed and properly attached to the Packaging for any and all International Orders. Please ensure your warehouse team reviews this article and complies with all Cahoot requirements.
Video

Walkthrough
Video Timestamps
Jump directly to a specific part of the Video:

| | |
| --- | --- |
| 0:08 | Scan Verification and International Forms |
| 2:30 | Attaching Labels and Forms |
Step-by-Step Guide
Part 1: Printing Shipping Labels and Customs Forms
International Orders may require additional documentation. Printing these forms is integrated directly into the Scan Verification workflow.
Note: International Forms are exclusively printed on standard 8.5 x 11" paper. Please be sure that you have access to a standard laser or inkjet printer from your packing station.
1. From the Print and Ship My Orders page, create your Pick Lists, Label Batches, or print Packing Slips and Shipping Labels in bulk as you normally would, and use the Scan Verification workflow as you normally would.

2. When you come across an International Order that requires Additional Forms, you will need to print the Additional Forms before you can finish verifying the order.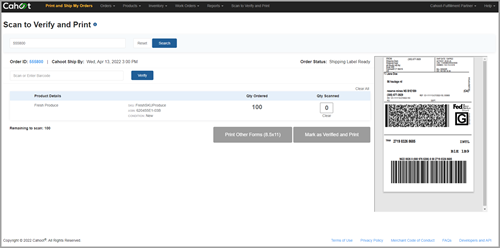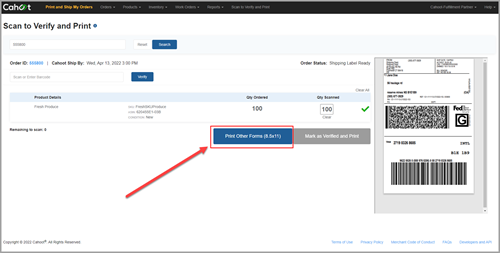 3. Print the Additional Forms, then continue to print the Shipping Label and Packing Slip.
Note: International Forms are exclusively printed on standard 8.5x11 paper. Please ensure you have access to a standard laser or inkjet printer to print these forms.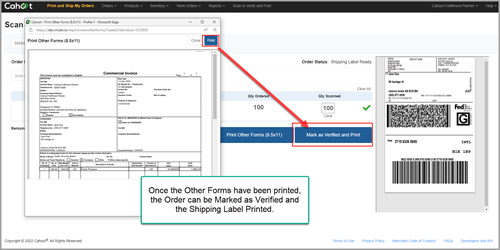 Note: Printing these forms are required in order to proceed to the shipping label. If you cannot print the label for an order, check to see if there are any unprinted Additional Forms.
4. If needed for any reason, you can Reprint the Additional Forms from either the Scan Verification page, or from the Order Details page.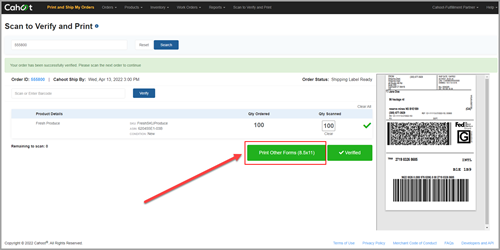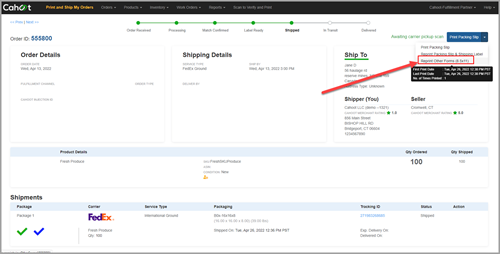 5. Confirmation that the Additional Forms were printed with date/time stamp can be found on the Order Details page.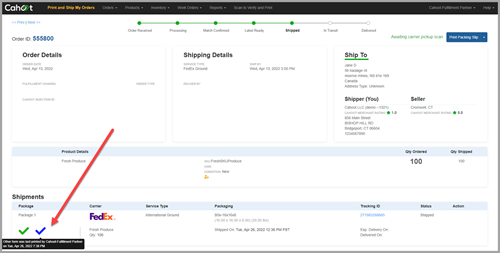 Part 2: Attaching Labels and Forms to Packages
International Forms need to be signed and attached to the outside of the package. Please see the Instructional Video for further instruction.
1. Place all Products and the Packing Slip inside the Package.
Additional Forms do not go inside the package, and must be added to the outside of the Packaging in a clear pouch or bag.


2. Tape Package shut and Attach Label.
Don't forget to leave enough space for the Additional Forms to be added near the label on the front of the package.


3. Sign all International Forms.
Review Additional Forms and make sure each page is signed as needed.


4. Attach clear Forms sleeve.
Remember to ensure the forms can rest flat; do not attach the Forms sleeve or pouch to multiple sides of the Packaging, unless the Packaging is too small to avoid this.


5. Fold International Forms in half, so the content will be visible once placed in sleeve.
When folding the Forms, do so in a manner that allows the top half to still be visible though the clear sleeve.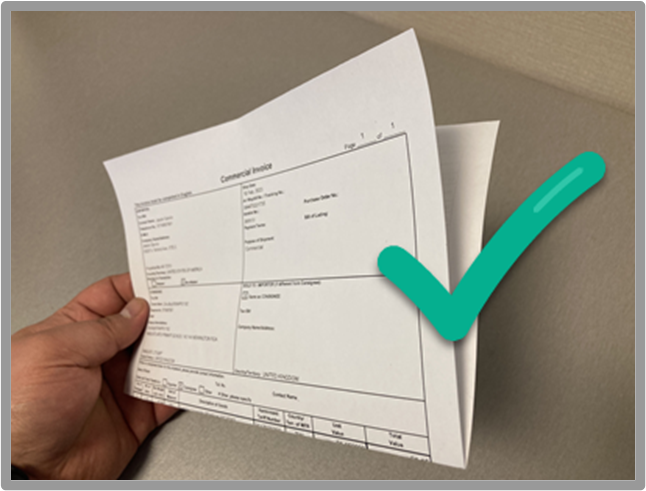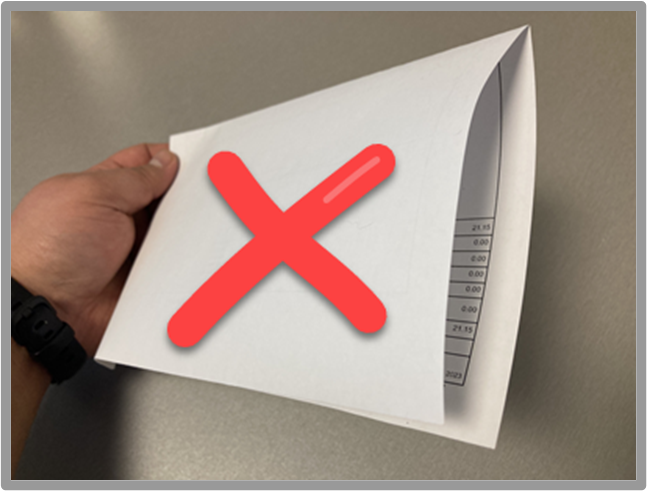 6. Insert International Forms into clear sleeve.
Forms should be fully tucked into clear sleeve, pouch or bag to prevent damage from the elements.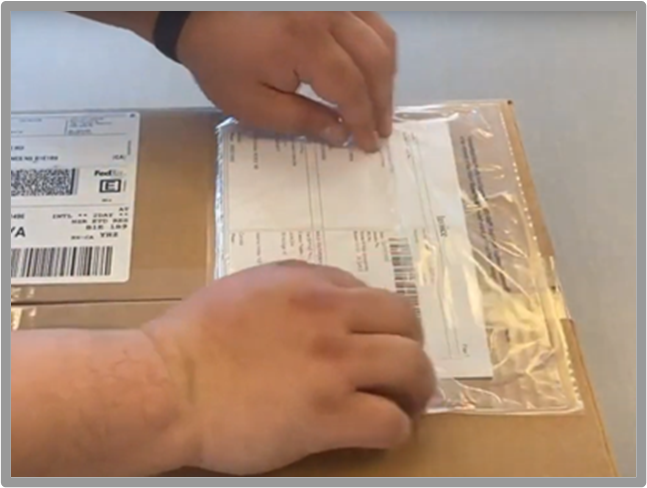 7. Ensure sleeve is closed.
Forms must be able to survive handling and movement without falling out of the pouch, or having the pouch detach from the Packaging.


8. Hand Package over to Shipping Carrier.
Hand the International Package to the Shipping Carrier as normal.