Preparing Inbound Shipments
This comprehensive guide to preparing and shipping inventory to Cahoot includes how to properly prepare your inventory to ensure both fulfillment accuracy and safe delivery to your customers, and how to prepare your shipment for safe and timely delivery to Cahoot.
Note: Creating high-quality inbound shipments will help expedite the receiving of your SKUs and avoid issues that may lead to delays. The Creating Inbound Shipments
article will demonstrate how to create products, create Inbounds, and how to track and manage your Inbounds and inventory.
Preparing Inbound Shipments
Inventory prep should follow the Amazon FBA Product Prep and Shipment guidelines published in Seller Central. Determining the type of preparation required to ship your products to Cahoot safely is your responsibility. Failure to comply with FBA product prep requirements, safety requirements, and product restrictions may result in receiving delays, up to and including refusal of shipment delivery. The guidelines are designed to ensure the safe handling by warehouse staff, safe transportation by carrier employees, and safe delivery to customers. 
Note: Before you can send inventory to Cahoot, your Inbound Shipment must be approved and assigned to an address. Shipments delivered without advance approval may be refused. 

Video

 

Walkthrough
Video Timestamps



Jump directly to a specific part of the Video Walkthrough:
| | |
| --- | --- |
| 0:00 | Inventory Packaging Requirements |
| 1:11 | Special Packaging Instructions |
| 1:29 | The Drop Test |
| 2:01 | Inventory Labeling Requirements |
| 3:15 | Cahoot Prep Service |
| 3:33 | Inbound Shipment Instructions |
| 3:55 | Bill of Lading (BOL) |
| 4:01 | Packaging Materials |
Inventory Prep Requirements
The items should be delivered to Cahoot ready to be fulfilled. That is, either a shipping label can be placed directly on the manufacturer's packaging, or the item(s) only need to be packed within standard shipping supplies before shipping.
1. All units must have a label identifying its contents (see below for Inventory Labeling Requirements). Learn how to Print Product Barcodes in Cahoot. 
2. SKUs that should be shipped in a set or pack of more than one unit, or together with other products (kits, bundles, multi-packs, etc.) should be pre-assembled in suitable containers (poly bags, etc.) and must be clearly labeled with a barcode unique to the set. For example, a "2-Pack" should have a uniquely distinct barcode compared to a "3-Pack" of the same product, and any original manufacturer barcodes for the single units must be obscured to prevent confusion.
3. Only 1 scannable barcode should be visible on each unit. For example, units that require polybagging and a barcode on the polybag (e.g. tee shirts, shampoo bottles) should have any internal barcodes on the units themselves obscured so there is no confusion at Cahoot FCs.
4. All packaging including loose sleeves, pouches, and poly bags should be secured with a non-adhesive band or removable tape.
5. Bags that have an opening that measures more than 5 inches when laid flat must have a suffocation warning with legible font size printed on or affixed to them in a prominent location.
6. See below for Special Prep Instructions and follow the instructions for all products that fall into one or more of these categories. 
Inventory Labeling Requirements
Loose products
1. Each unit must have a label that is visible after prep is complete, and it must contain a scannable barcode (ISBN, UPC, EAN, JAN, ASIN, or FNSKU), an item description, and the item's condition (see Condition Guidelines). The barcode must not be punched out, marked over, covered, or otherwise obstructed.
2. Labels should be printed on a white background.
3. UPC 128 standard should be used for barcodes.
4. Font size should be at least 8 pt but recommended to be more than 12 pt.
5. Fonts should distinguish the lowercase letter 'i' from the upper case letter 'I', and between the number '0' (zero) and the letter 'O'.
6. Labels should be at least 1" in height and at least 2" in width.
7. Labels should be applied directly to the individual SKU sold as a single line item unless the surface material of the SKU will not sufficiently support a label, in which case the item should be placed in a bag that the label can be applied to.
Case-packed products
1. All products in a box must have matching SKUs and conditions and must have been packaged together by the manufacturer.

2. All boxes with the same product must contain equal quantities of that product in each box. For example, a case pack of 24 units must always contain 24 units.

3. Product Barcode, Seller SKU, Item Description and Item Quantity must be clearly printed on the package/box containing case-packed products.
Example Carton Label.
In some cases, a manufacturer or distributor may package more than one case-pack into a larger box called a Master case or Master carton. Master cases do not qualify as a case-pack and must be split at the appropriate case-pack level and labeled accordingly.


Special Prep Instructions
Some products such as liquids and fragile glass items require extra care and attention while packing for shipment. Please follow these guidelines as applicable to ensure all inventory packaged for shipment and delivery to Cahoot passes the drop test (see below for details).
Liquids
Liquid products should be packaged in one of the following materials:
1. Use boxes if the products are double-sealed.
2. Use polybags or shrink-wrap if the products are not double-sealed, or more than 16 oz. even if they are double-sealed.
3. Use bubble wrap and/or dunnage if required to pass the drop test.
Sharp Units
Sharp units should be packaged such that no person handling the items from the initial shipment creation process through to the receiving and final fulfillment processes can be hurt by them. Using boxes and dunnage is the best practice. Alternatively, ensure that the packaging covers the sharp points using footprint or blister packs, both of which should be securely fastened to the unit.
Fragile Units
Fragile units should be packaged to ensure they don't break at any time during transit to Cahoot or at any time during fulfillment. They should be packaged in boxes with cushioning that disallows movement within and ensures they pass the drop test. Alternatively, completely wrap them in bubble wrap ensuring product labels/barcodes are on the outside of the bubble wrap.
Plush Units
Plush units must be sealed in poly bags or shrink-wrapped in plastic so that they are not exposed to dust, dirt, or humidity.
Baby Products
No product meant for children younger than four years old should have exposed area more than 1" x 1". Exposed areas should be packed in transparent poly bags or shrink-wrapped.
Apparel, Fabric, and Textiles
Cloth products must be sealed in poly bags or shrink-wrapped in plastic so that they are not exposed to dust, dirt, or humidity. Use boxes for materials such as leather that can be damaged by plastic. Shoes should be packed in boxes or plastic bags in pairs, not packaged as singles or groups of more than two.
Jewelry
Jewelry can be packed in boxes or poly bags depending on its original packaging. Jewelry pouches should be packed individually in transparent plastic bags. The plastic bags should be of the appropriate size to be able to hold the pouch. Boxes made of fabric-like material should also be bagged or boxed. Boxes made of a material that can be cleaned easily do not have to be bagged.
Boxes that have sleeves don't need to be bagged or boxed if the sleeves are snug enough to not slide off in transit. Otherwise, the labels could be lost and items displaced.
Products smaller than 2 inches
If the products are smaller than 2 inches on any side, then the product label may not stick without going over the side. In that case, the products should be bagged in a polybag slightly bigger than 2 inches so the barcode is readable with the label on the bag.
Pellets, Powders, and Granular
Pellets, Powders, and Granular products are dry goods that are pourable and can cause damage during shipping and when stored. These products should be packaged securely to pass the drop test without the contents of the container leaking or spilling. Items that cannot withstand the drop test on their own must be packaged in poly bags. Items in glass containers should adhere to 'Fragile Units' packaging instructions. 
Adult Products
Adult products should be bagged in black, opaque bags to prevent offending any person handling the items during fulfillment.


The Drop Test
All products packaged for shipment must be able to withstand a drop from 3-feet high onto a hard surface without causing breakage, damage, or leaking. It consists of five drops in total: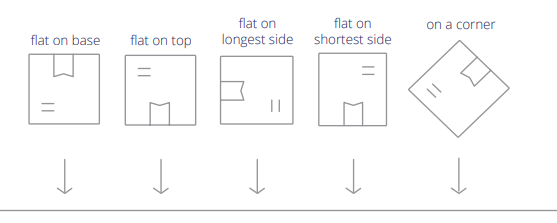 Condition Guidelines
The following guidelines apply to all product categories:
New

A brand-new item in its original packaging (certain items like shoes may be re-boxed). Any original manufacturer's warranty still applies in full.
Renewed
A pre-owned product that was inspected and tested to work and look like new by a qualified supplier/vendor or product expert. The product has minimal to no signs of wear, no visible cosmetic imperfections, and may include relevant accessories that may be generic. The product comes with a warranty offering a replacement or refund within 90 days of purchase if the product does not work as expected.
Used - Like New or Open Box
A product in perfect working condition, with minor damage possible. Original packaging may be missing but instructions for use are included.
Used - Very Good
A product in good working condition but may show some limited signs of wear such as small scratches or cosmetic blemishes. Original packaging may be damaged, or the product may be repackaged, and the item could be missing some accessories. 
Used - Good
A product is in good working condition and functions properly, but it shows wear such as scratches or cosmetic damage from consistent use. Original packaging may be damaged, or the product may be repackaged, and it may be missing some parts or accessories such as assembly hardware or an instruction manual.
Used - Acceptable
A product that continues to function properly but is fairly worn with aesthetic issues such as scratches, dents, and worn corners. Original packaging may be damaged, or the product may be repackaged, and it may be missing some parts or accessories such as assembly hardware, a USB cable, etc.
Cahoot Prep Service
(additional fees apply)
When product preparation services are available:
1. Products that need to be grouped into sets, multi-packs, or otherwise assembled, must contain explicit instructions for prep guidance.

2. Inventory that is not properly prepared/labeled may either be 1) prepared/labeled on the merchant's behalf and invoiced accordingly, or 2) returned to sender at Cahoot's sole discretion, and at Sellers cost.

3. Fees based on the "size" of a product are calculated using Cahoot's information about the weight and dimensions of that product at the time the fee is calculated.
Standard-size items weigh 20 lbs or less and do not exceed 18 inches on their longest side, 14 inches on their median side, and 8 inches on their shortest side. Any item exceeding these dimensions is considered oversize.


Shipping Inventory to Cahoot
Cahoot accepts the following Inbound Shipment types:
1. Parcel Delivery: The units are packed into individual boxes/cartons that are delivered individually using a parcel shipping label, not grouped together.
Example Carton Label for proper labeling of your Inbounds.
2. LTL/FTL Delivery: For substantially large shipments, it is better to do Less than Truckload or Full Truckload (LTL or FTL) shipping. In this case, the units are shipped on pallets. The units may be stacked individually directly on the pallet, or be packed into boxes or cartons that are stacked and secured onto pallets.
3. Shipping Container Delivery: Cahoot also accepts the delivery of shipping containers with an approved appointment. Unlike Parcel, FTL, and LTL shipments, container shipments have added complexity such as devanning, drayage, etc. Fees for receiving shipping containers follow market conditions, so please request a quote before shipping. Inventory must either be prepped before shipping, or prep fees may apply.
Make sure to include a Packing Slip with the Cahoot Inbound ID. The Inbound Summary can be printed from the Inbound Page and marked up with confirmation of units shipped compared to expected. Receiving may be delayed for Inbounds missing Packing Slips, and may take longer if discrepancies are identified. See example: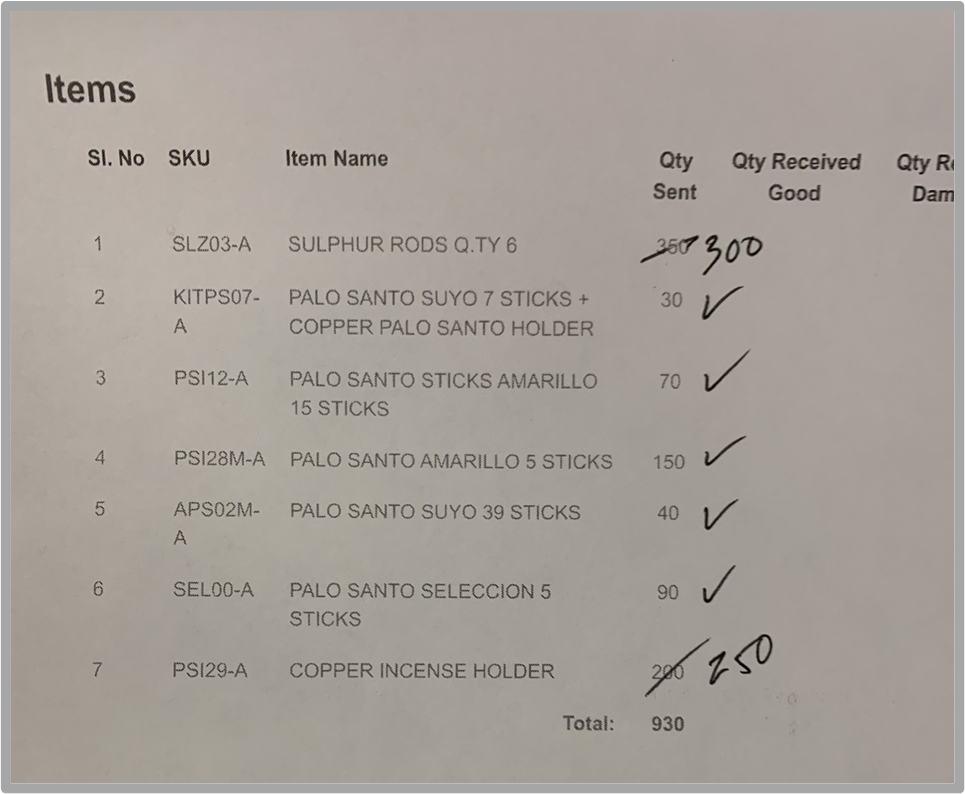 Tips:
Consider shipping inventory direct from suppliers to keep costs down (ensuring that Product Preparation Requirements are completed as described above).
Cahoot offers discounted rates for your inbound freight shipments by aggregating volume across the network. 
Learn more.
Parcels

If you are shipping through a parcel shipping service, use boxes or cartons that can withstand the standard shipping process. Please follow these guidelines for shipping parcels.
1. Each box should contain items from one approved Cahoot Inbound only.
2. The quantity of units should match the shipment (Inbound Number) approved by Cahoot.
3. Boxes heavier than 50 lbs should indicate 'Team Lift' on the top and sides of the box.
4. Boxes heavier than 100 lbs should indicate 'Mech Lift' on the top and sides of the box.
5. Remove or cover any previous labels (including fragile and hazardous) that are no longer applicable.
Additional recommendations:
1. Parcels containing multiple units should not exceed 25 inches on each side.
2. Use Regular slotted cartons with B-Flute, ECT-32 (edge crush test), and 200 lbs/sq. inch (burst strength).
3. Use adequate cushioning material.
4. Use strong tape designed for shipping.
5. Do not use string or paper over-wrap.
LTL/FTL/Container

Use pallets that are in good condition and are not made of weak materials such as cardboard or particleboard.
1. Stage boxes using standard pallet stacking requirements. Do not use extra packing, straps, or elastic to pack boxes on pallets.
2. Total weight should not exceed 1500 lbs.
3. The contents of pallets must not overhang by more than 1".
4. All pallets are recommended to be wrapped in plastic preferably clear stretch wrap, to prevent shifting during transit. Shipment labels should be placed on the outside of the stretch wrap.
Additional Recommendations:
1. Use 48" x 40", 4-way access wooden pallets unless products require larger pallets.
2. Pallets must not exceed 72" in height.
3. Use GMA Standard Grade B pallets or higher.
4. Use GMA Grade 1A pallets for Food, Grocery, and Health & Beauty products.
5. Do not use PECO pallets that cannot be moved using a standard pallet jack.
Additional Checklists
Shipping Labels
Instructions for application:
1. Each box or pallet should have its own shipping label.
2. Do not place shipping labels across box seams that could be cut during receipt.
3. Do not place shipping labels closer than 1.25" from the edges of the box or pallet.
Bill of Lading
LTL/FTL pallets and containers may have a Carrier Shipping Label.
1. Include all reference numbers and Cahoot Master Product Ids for the SKUs enclosed.
2. Standard BOL information:

Your Name

Your From Address

Carrier Name

Carrier's reference number (PRO#)

Correct name and quantity of the enclosed SKUs

Trailer and seal number

Shipped Loan and Count or SLC (optional)
 Sample BOL: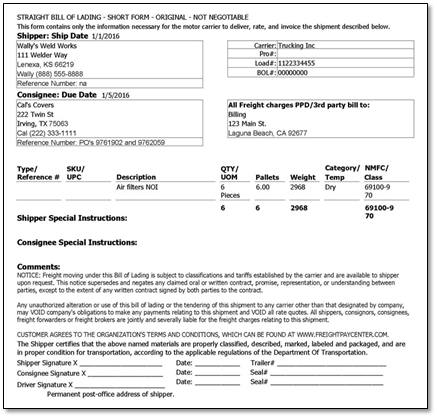 Inbound Shipment Compliance
Non-compliant inbounds are those that have one or more issues and require corrective action before SKUs can be made available for fulfillment. Non-compliant inbounds are not subject to documented SLAs and will take longer and cost more to receive.
The following are some of the more common examples of non-compliance that cause a delay in the receiving process or result in additional receiving fees:
Unknown or Unexpected SKU: SKUs that were not listed on the Inbound ID upon approval.



Bad barcodes (unscannable, missing, or incorrect): Items that do not have the correct scannable barcodes, or those that have multiple different barcodes that are not properly configured in Cahoot as Additional Barcodes. Sellers may need to create Inventory Prep Work Orders to have items correctly prepped (e.g. barcode application, configuration, removal, etc.)



Improperly Prepared Inventory: Some examples are liquids not properly sealed in secondary packaging (baggies), or apparel items not individually packaged into plastic poly bags. See the full list above.



Oversize Items: In some rare cases, very large SKUs can take more time to unpack, organize and store, depending on how they're delivered.



Damaged Packaging: Parcels or Pallets improperly prepared can result in damages while in transit (e.g. pallets stacked taller than 72" or without sufficient stretch wrap). Parcels or Pallets that are delivered with notable damages on the outside will be set aside for receiving separately from the remainder of the "good" parcels or pallets. We highly recommend taking pictures of your pallets or parcels before the shipment leaves your facility so any damages incurred in transit may be attributed to carrier negligence.



Damaged Inventory: Items that are identified as damaged, leaking, or otherwise observed to not be in New condition.



Missing, Hidden, or Incorrect Inbound ID: All inbounds must be labeled with the correct Cahoot Inbound ID. Pallets should reference Inbound ID on the BOL and all pallets should have a BOL affixed to it. All cartons in a parcel inbound should likewise have the Inbound ID printed or stickered on each of them.



Missing, Hidden, or Incorrect Carton Label: It is recommended that only 1 SKU is shipped in each carton, however, when that is not practical, multiple SKUs may be shipped together in shared cartons. In this case, mixed cartons must have the following information displayed on each one: Cahoot Inbound ID, Box Count (if applicable, such as Box 1 of 2, Box 2 of 2), the Barcode of each item inside the carton, and the Quantity of each item inside the carton. Optional Cahoot Carton Labels are available at the time of Inbound Creation, and also

attached here

for your convenience, to help keep the information organized.



Mixed Cartons without proper segregation: It is highly recommended to segregate SKUs within mixed cartons rather than lumping them all together in a box that needs to be sorted first before counting and receiving. For example, use envelopes, smaller boxes or similar separative methods to enable the FC to quickly count each SKU in its entirety during receiving.



Wrong Quantities: Items received with too few or too many units compared to the quantity expected will require extra counting and recounting to confirm actual quantities received.



Deliveries that are not Pre-Approved: Any delivery that cannot be clearly identified as belonging to a specific Seller, or any delivery that is sent to a Cahoot FC without prior approval may be refused or set aside for receiving separately as time permits.



Missing Tracking Numbers: Tracking numbers should be entered before the inventory is scheduled to arrive to avoid scheduling issues.
Inbounds that fall into any of these categories will be set aside for receiving separately as time permits. The Inbounds Team will reach out with details and next steps.
Removals from Amazon FBA
If you ship inventory to Cahoot from FBA, it will be delivered across days or weeks, likely coming from several DCs, without logical organization, and will increase the receiving time and fees. And, Amazon WILL NOT label the shipment with the Cahoot Inbound ID which would make the shipment non-compliant. The best option (fastest and cheapest) is often to have FBA send the inventory to you, then repackage it into a compliant inbound and create your Cahoot Inbound accordingly.
Resource: Cahoot's Hazardous Materials and Restricted Products policy