How do I file a UPS insurance claim?
Either the sender or the recipient may file a claim for insured mail that is lost, arrived damaged, or was missing contents. The person filing must have the original mailing receipt. Each claim must be filed within a certain time period and include proof of insurance, value, and damage.
Each carrier automatically insures packages up to a certain amount, even if you did not purchase additional carrier insurance. This amount varies by carrier and by shipping method; for example UPS Ground is automatically insured up to $100, but UPS Mail Innovations has $0 automatic insurance.


Note: You can learn more about insurance options including our Shipsurance integration.

Without Shipsurance, you will have to submit your claim to the carrier directly. At this point, Cahoot cannot help; this process is only done directly on the carrier's website. This article outlines the detailed steps for UPS claims.
Note: You may have to refund your customer, or send them another shipment directly; in order to create another order manually in Cahoot, you can use our Order Import module.

Step-by-Step Guide for UPS claims
1. Check if your claim is within the allowed period
You must file your claim for damaged or missing contents no later than 60 calendar days from the shipment date for U.S. packages, after at least 24 hours from expected delivery date and time.
2. Log into your UPS.com profile

You must file your claim from within a UPS profile. If you do not have one, sign up for a free account.

3. Prep needed documents for the claim
In order to proceed, we will need an invoice from the original sales channel (example: Amazon) for proof.
Note: UPS requires photo documentation for damage claims. A physical inspection at a UPS-approved location may be needed as well.
4. Begin claims process
You can start the claims process here.
5. Enter the Tracking ID, your relationship to the package, and if the package is lost or damaged.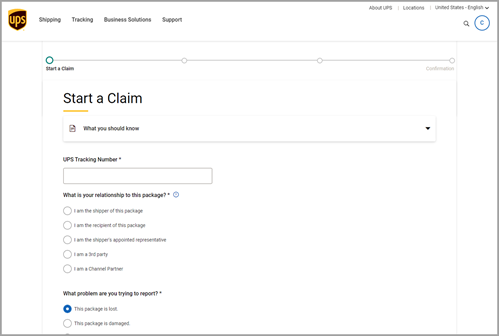 Note: UPS is very particular about the account number used for the tracking number. Even if your account was used to create the tracking ID, you may need to specify "I am a 3rd party" in order to proceed.
6. Specify package contents and upload supporting documents
Enter details of the first product in the Detailed Merchandise Description. Then, if there are multiple SKUs on the order, click Add Another Merchandise Description and fill in the details for the next SKU on the order. Repeat as needed.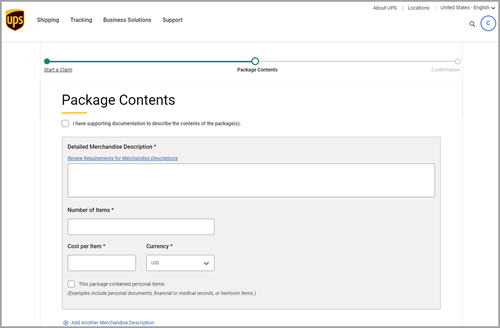 Additional supporting documentation includes merchandise description in the form of receipts, invoices, purchase orders, or other documentation that specifically identifies the merchandise. Supporting documentation also includes photos of damaged packages and/or contents (for Damage claims).
If you are filing a loss claim, select the check box indicating "I have supporting documentation to describe the contents of the package(s)." This check box appears in the Shipment Details page, Package Contents section.
If you are filing a damage claim, select the check box indicating "I have photographs to support my damage claim." This check box appears on the Damage Inquiry page.
Use Add Supporting Documents to upload a copy of the order's invoice from your original Sales Channel (example: Amazon).
7. Add your location and contact information.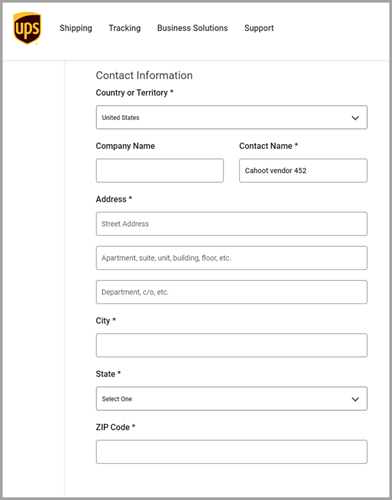 8. Confirmation
Review the shipment and contact information, then finish the claim.