How do I file a USPS insurance claim?
Either the sender or the recipient may file a claim for insured mail that is lost, arrived damaged, or was missing contents. The person filing must have the original mailing receipt. Each claim must be filed within a certain time period and include proof of insurance, value, and damage.
Each carrier automatically insures packages up to a certain amount, even if you did not purchase additional carrier insurance. This amount varies by carrier and by shipping method; for example USPS Priority Mail is automatically insured up to $100, but First Class Mail has $0 automatic insurance.
Note: You can learn more about insurance options including our Shipsurance integration.

Without Shipsurance, you will have to submit your claim to the carrier directly. At this point, Cahoot cannot help; this process is only done directly on the carrier's website. This article outlines the detailed steps for USPS claims.
Note: You may have to refund your customer, or send them another shipment directly; in order to create another order manually in Cahoot, you can use our Order Import module.
Step-by-Step Guide for USPS claims
1. Check if your claim is within the allowed period (chart below)
| | | |
| --- | --- | --- |
| Service | File After | File Before |
| Priority Mail Express® | 7 days | 60 days |
| Priority Mail Express COD | 15 days | 60 days |
| Priority Mail® | 15 days | 60 days |
| Insured Mail | 15 days | 60 days |
| Collect on Delivery (COD) | 15 days | 60 days |
| Registered Mail® & Registered COD Mail | 15 days | 60 days |
| APO/FPO Priority Mail Express Military® Service | 21 days | 180 days |
| APO/FPO/DPO Insured Mail, Registered Mail | 45 days | 1 year |
| APO/FPO/DPO Insured Mail (Surface only) | 75 days | 1 year |
2. Prep needed documents for claim
Ensure all documents are retained until AFTER claim is completed and resolved.

A. Tracking number
B. Shipping date
C. Full address of mailing location
D. Proof of Value (sales channel's packing slip PDF with item prices is easiest option)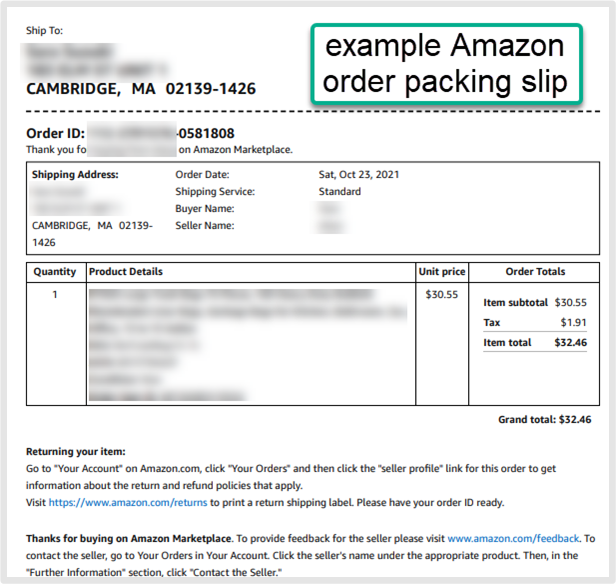 3. Begin filing claim – log in to USPS, start claim process

A. Log into or create your USPS.com account. The claim will be associated with this account. If you do not have a USPS.com account, you can create one for free.
B. Follow this link to start the claim process
https://onlineclaims.usps.com/OICWeb/

4. Go through claim process – Part 1 search for package

A. Enter tracking number
B. Enter Shipping date
C. [Search] to obtain shipment results from USPS.

5. Go through claim process – Part 2, 3, 4

A. Reason for claim – enter "Lost"
B. Insurance paid (if any) – enter "$0" unless additional carrier insurance was purchased
C. Confirm Mailer or Recipient – Mailer
D. Ensure Mailer Address is correct – this needs to be the address the order shipped from; Sellers will need CFP full address for this. Also note that the address change needs to be done directly on USPS.com BEFORE the claim; if not, then the user must leave the claim, update address information, then restart the claim process.
E. Enter in customer address information

6. Go through claim process – Part 6, Item information

A. Enter in product information:
Item Name (enter product name from Cahoot order)
Item Type (pick from dropdown list)
Item Description (120 characters describing SKU)
Purchase Date
Amount Requested – claim amount requested, EXCLUDING postage/shipping (unit cost)

B. Upload Proof of Value
.jpg or .pdf under 2 MB
This can either be:
i. Sales Receipt, showing item price
For example, the Amazon Seller central Packing Slip is acceptable
ii. payment gateway or credit card statement
If there is no way to provide information from the sales channel, an alternative is to provide proof of payment from the payment gateway.

C. Repeat for each additional item that is part of claim
This process needs to repeat for each inventory item on the order. For example, if there are 2 SKUs @ 3 qty each, you will need to have SIX items entered individually (3 entries of each SKU)

7. Go through claim process – Part 7, Domestic Claim Nickname
Give claim a "nickname"


8. Review and submit claim
You will receive a confirmation email, and additional emails when the claims process is updated.
[Optional] Tips for Sellers to communicate with your End-Customers
Here are some tips to work with your customer to ensure the order was not misplaced and is actually lost.
We want to ensure you receive the item that you've purchased. Here are some recommendations we have that could help resolve the issue:
Check with your neighbor: The carrier may have left the parcel with a neighbor on your street (next door neighbors 1 to 2 doors down or across the street)


Check safe locations: The carrier may have left the item in a safe location around your property (inside the porch, inside the garage, inside the shed or greenhouse)



Try contacting the carrier to explain that while tracking shows as delivered, you haven't received the parcel.
Please continue to communicate and provide updates. e.g.
If you contact the carrier and they provide you with proof (email or letter) that the item wasn't delivered, please upload that proof to the case to inform us.



If you are able to locate your parcel, please close the case.