Using Work Orders for Fulfillment Partners
Work Orders are used to remove Cahoot inventory from your warehouse to other locations; other Cahoot warehouses, Amazon, or other 3rd party warehouses. This article will cover the feature overall, and contains several video walkthroughs for the different elements of Work Order fulfillment.
Work Order Overview Video Walkthrough
Step-by-Step Guide
Work Orders can be found under the top navigation's Work Orders > All Work Orders.
There are two tabs; the first tab, "Assigned to Me" are Work Orders assigned to you to process as part of the Cahoot network. "Assigned to Partner" are Work Orders for your inventory at Cahoot partner locations.
Here we can see a list of all work orders, based on the filter criteria. We can specify a type of work order, work order status, date range, or look up individual work orders by ID.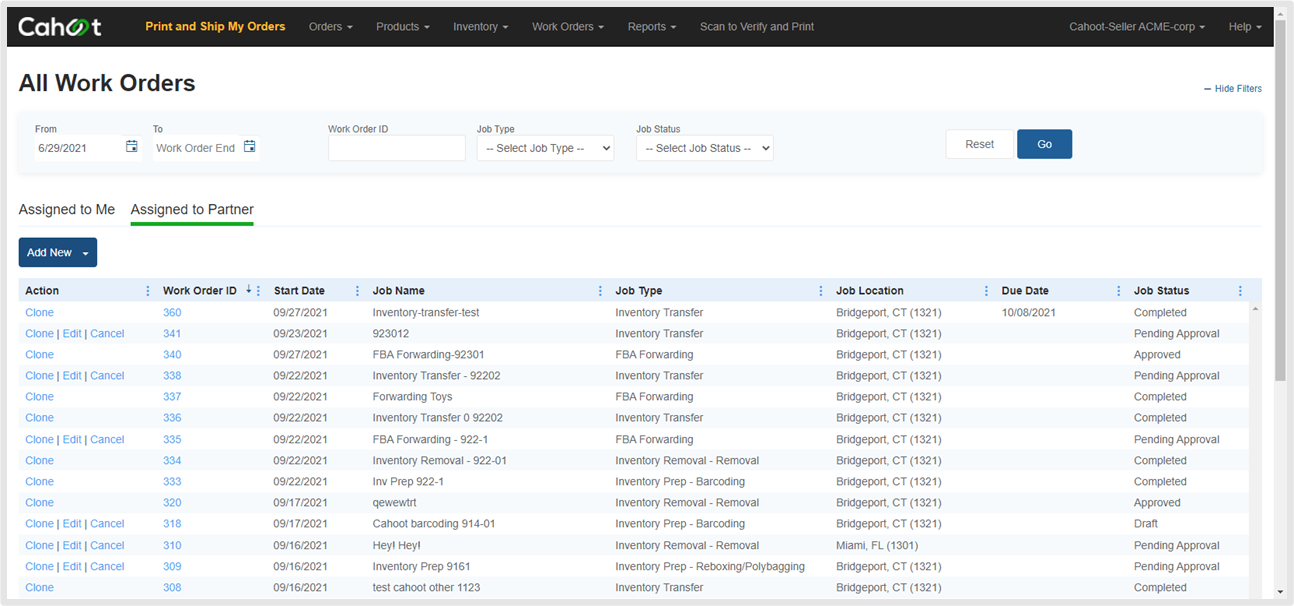 The grid can also be used to filter and sort by columns.
Using the Add New button, we can create different kinds of Work Orders:
Preparing Inventory for Shipment
Inventory Prep work orders are work orders doing the preliminary work of barcoding or reboxing Cahoot inventory at your warehouse so it's ready for storage and fulfillment.
Removing Inventory (Removals, Transfers, FBA Forwarding)
There are several Work Orders that deal with removing Cahoot partner inventory from your location. While there are some differences, these Work Orders all use the same core principles. All three options are covered in the Walkthrough video below.
Inventory Removals
Inventory Removals are Work Orders to move Cahoot inventory from your warehouse to another location, outside the Cahoot network.
Inventory Transfers
Inventory transfers are Work Orders to move Cahoot inventory from your warehouse to another Cahoot partner warehouse.
FBA Forwarding
FBA Forwarding Work Orders are used to move Cahoot inventory from your warehouse to Amazon FBA warehouses in order to add inventory to FBA listings.

Other
Other Work Orders are for any other Work Order not covered in the Work Order types listed above.
Invoices
Once you have completed the Work Order, you can create an invoice for the time and materials spent on the special project.