Work Orders are used to request inventory prep services, transfer inventory between Cahoot warehouses, forward to FBA, and remove inventory, among other less common requests. Learn more about how they work below.
Video Walkthroughs
Work Order Overview
Inventory Prep
Requests to prep inventory for the purpose of making it ready for storage and fulfillment. Examples include barcoding, poly bagging, bubble wrapping, re-boxing of units with damaged retail packaging, etc.
Inventory Transfer
Requests to distribute your inventory between Cahoot warehouses.
FBA Forwarding
Requests to ship your inventory from a Cahoot warehouse to Amazon FBA warehouses.
Inventory Removal
Requests to move your inventory from a Cahoot warehouse to another location, outside the Cahoot Network.


Removal Guidelines
Lead Time: 14-21 business days, but it can take up to 30 days or more during peak seasons.

Shipment Process: Cahoot manages all return shipments including carriers used. Cahoot is not responsible for items damaged or lost in return transit.

Restrictions: PO, APO, FPO, and/or DPO shipping addresses are not supported at this time.

Prerequisites: Payment for removal requests are due in advance of processing. Accounts must be current and in good standing. Past due and/or suspended accounts are not eligible for removals until they are brought current.
Fees: Fees for removals will apply, $99 minimum.

Note: We do not support inventory disposal or liquidation at this time.
Other
Any other special requests.
Step-by-Step Guide
Work Orders can be found under the top navigation's Work Orders > All Work Orders.
There are two tabs; the first tab, "Assigned to Me" are Work Orders assigned to you to process as part of the Cahoot network. "Assigned to Partner" are Work Orders for your inventory at Cahoot partner locations.
Here we can see a list of all work orders, based on the filter criteria. We can specify a type of work order, work order status, date range, or look up individual work orders by ID.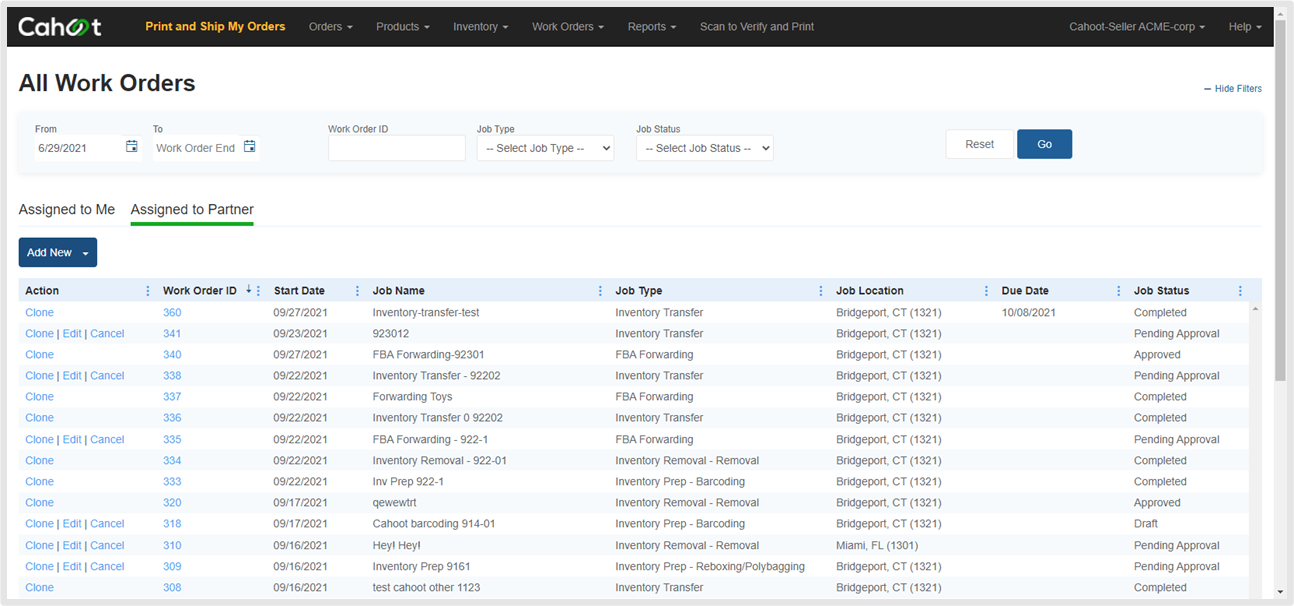 The grid can also be used to filter and sort by columns.
Using the Add New button, we can create different kinds of Work Orders: