Work Orders are used to request Inventory Prep services, Transfer Inventory between Cahoot warehouses, Forward to FBA, and Remove inventory, among other less common requests. Learn more about how they work below.
Video Walkthrough
Video Timestamps

Jump directly to a specific part of the Video:
| | |
| --- | --- |
| 0:08 | Overview |
| 0:24 | Work Order Types |
| 1:10 | Locating Work Orders |
| 2:27 | Work Order Statuses |
| 3:03 | Example Work Order |
| 4:23 | Inventory Prep |
| 7:38 | Inventory Transfer |
| 10:32 | FBA Forwarding |
| 15:08 | Inventory Removals |
Step-by-Step Guide
1. In the top navigation, go to Work Orders > All Work Orders. The Assigned to Partner tab displays all the Work Orders that you have created.


2. Use the Search Filters at the top of the page to find what you're looking for based on Date Range, Job Type, Job Status, or a specific Work Order ID. Or, l earn how to Sort and Filter the list of Work Orders to find the Work Order you're looking for.

3. Under Assigned to Partner tab, use the Add New drop down button to create a new Work Order. There are 5 different types to choose from (Inventory Prep, Inventory Removal, Inventory Transfer, FBA Forwarding, and Other).
Note:
Learn more about the different Work Order types
below
.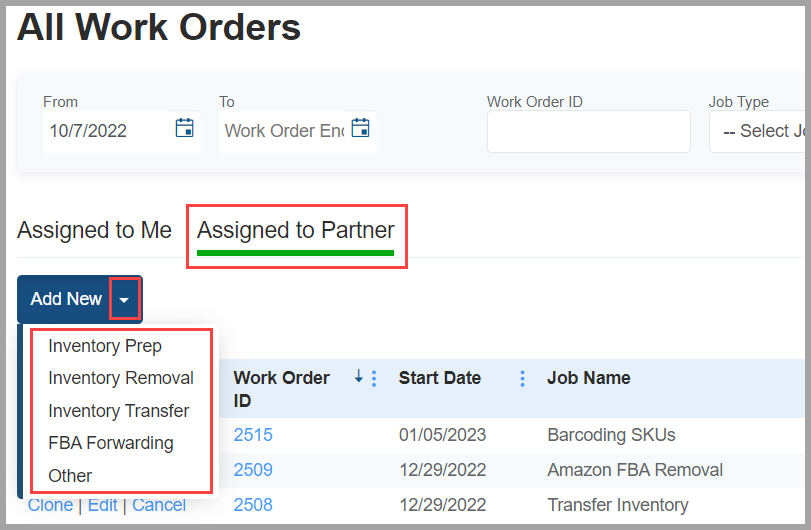 4. Create a unique Job Name, select the Job Type, and Job Location. The Job Location is where your inventory is stored.

Note: Separate Work Orders must be created for each individual Job Location, they cannot be combined into a single Work Order.
5. Enter the Ship To address and Upload any Shipping Documents you may have, if applicable.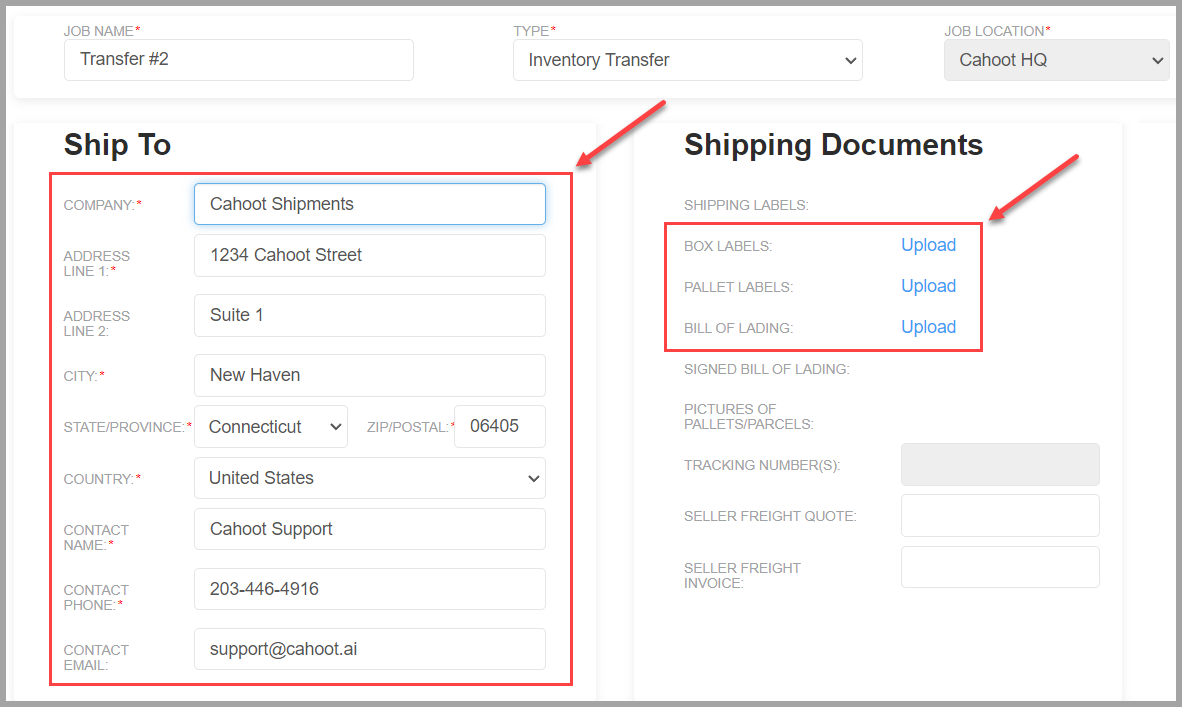 6a. Add Items to your Work Order by entering the SKU and/or Barcode and clicking Add Item, or simply leave these fields blank and click Add Item to search your Product Catalog.
Note: If your Barcodes are NOT configured in Cahoot, then only enter the SKU value and click Add Item. If you leave both fields blank and click Add Item it will open the Search and Add Items window as shown in the step below.


6b. Use the top filters in the search window and click Go to find specific items in your Product Catalog. Then use the checkboxes on the left and click Select to add the SKUs to your Work Order. You can also multi-select checkboxes to add multiple SKUs in bulk.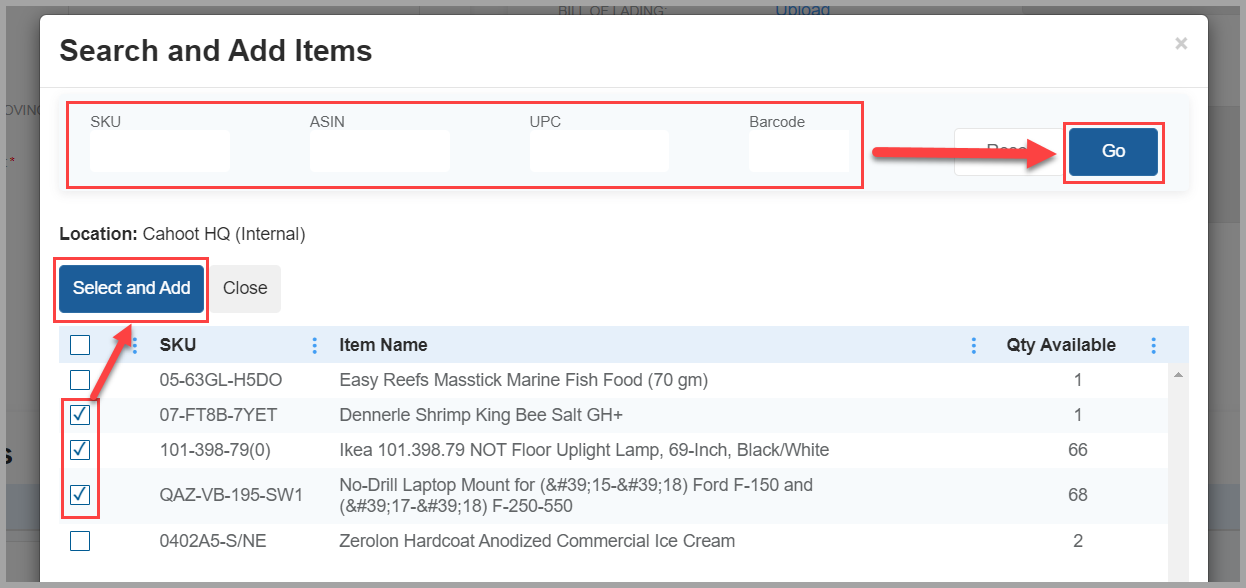 7. Enter the Qty of the products that the Work Order should apply to. You cannot enter a number of units that is greater than the Qty Available, which takes into account units that are already allocated to live orders.
Note: If you add a SKU by mistake, you can remove the line item using the trash can icon under the Action column.

8. Select an option in the How Would You Like to Ship drop down, either LTL (in Pallets) or Small Parcel (in Boxes). Add Shipment Protection if you want to add All-Risk insurance. 

9. Enter the work request details and/or any Special Instructions in the Special Instructions section.

10. Scroll to the top of page and click Save as Draft under the Other Actions drop down if you want to come back to this Work Order later, or click Submit Work Order if you're ready for it to be reviewed and Approved.
Important: Work Orders cannot be edited after they are Approved by Cahoot so double check all the information is correct before submitting for approval.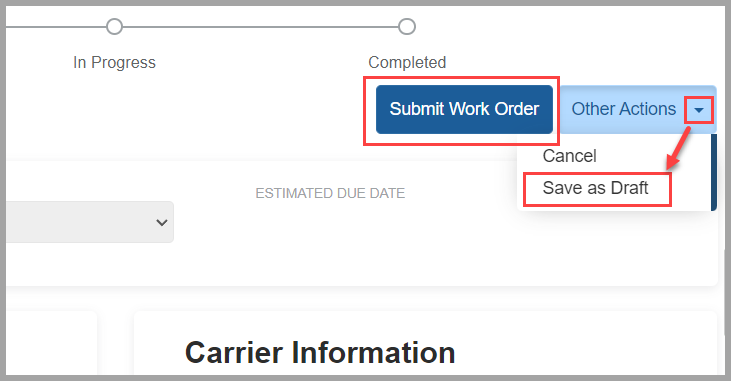 Work Order Types


1. Inventory Prep Work Orders are r

equests to prep inventory for the purpose of making it ready for storage and fulfillment. Examples include barcoding, poly bagging, bubble wrapping, replacing damaged retail packaging, etc.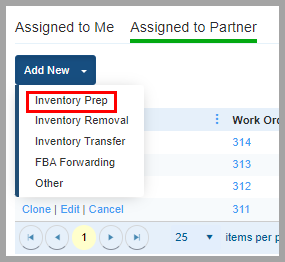 2. Inventory Transfer Work Orders are r

equests to distribute your inventory between Cahoot warehouses.

Please make sure your Cahoot Account is approved to use this service

before

creating a Work Order.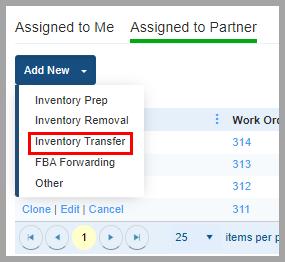 3. FBA Forwarding Work Orders are requests to ship your inventory from a Cahoot warehouse to Amazon FBA warehouses. Please make sure your Cahoot Account is approved to use this service

before

creating an FBA Work Order.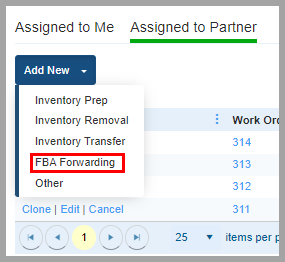 IMPORTANT: The FBA Box Labels, Shipping Labels, and Pallet Labels must be in 4x6 Standard Thermal Format and your Amazon SKU Names displayed on the FBA Box Labels must match exactly with your Cahoot SKU Names. Lastly, when entering SKU Quantities on the Work Order, they must be in increments that match your Case-Pack Quantities.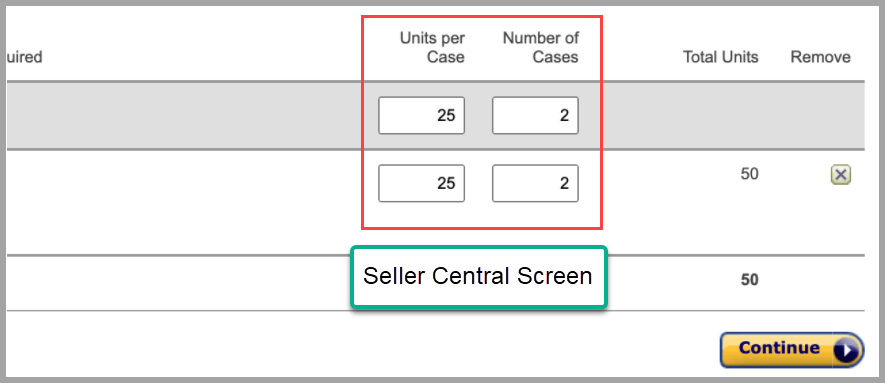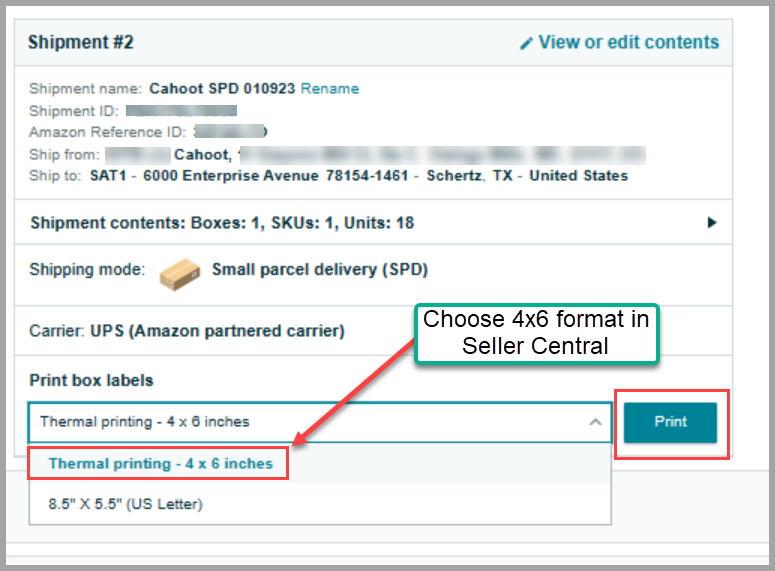 4. Inventory Removal Work Orders are r

equests to move your inventory from a Cahoot warehouse to another location, outside the Cahoot Network.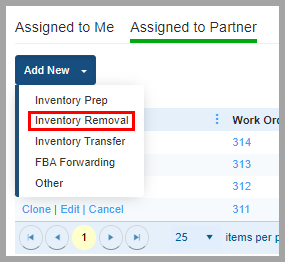 Inventory Removal Guidelines
4A. Lead Time: 14-21 business days, but it can take up to 30 days or more during peak seasons.
4B. Shipment Process: Cahoot manages all removal shipments including carriers used. Cahoot is not responsible for items damaged or lost in removal transit. All LTL removal shipments will include Shipment Protection (insurance).
4C. Restrictions: PO, APO, FPO, and/or DPO shipping addresses are not supported at this time.
4D. Prerequisites: Payment for removal requests are due in advance of processing the work order. Accounts must be current and in good standing. Past due and/or suspended accounts are not eligible for removals until they are brought current.
4E. Fees: Fees for removals will be due in advance, a $99 minimum applies.
Note: Inventory disposal and/or liquidation are not supported at this time.
Other Work Orders
are used for

non-standard special requests.