Using Cahoot End of Day (EOD) Scan Forms
An End of Day (EOD) form is a document that contains the list of the day's shipments. Some carriers, including USPS, require EOD forms when picking up your shipments. Cahoot uses an EOD form to prevent errors in Cahoot Warehouse Exchange fulfillment operations.
Cahoot provides a master End of Day form which contains all of your Warehouse Exchange shipments across all your carriers (currently Cahoot supports USPS, UPS, and FedEx). All you need to do is print out the pre-generated Cahoot EOD form and verify that your daily shipments have been prepared accordingly by scanning the unique QR Codes.
Note: Cahoot End of Day forms are REQUIRED for Warehouse Exchange fulfillments. Please scan it once each carrier has arrived and picked up all the packages. This allows us confirm that you have successfully handed over all the Cahoot packages for the day to the respective carriers.
Video

Walkthrough
Step-by-Step Guide
1. After 2:45 PM local time, click the End of Day Form (Cahoot) Download link on your Cahoot home page.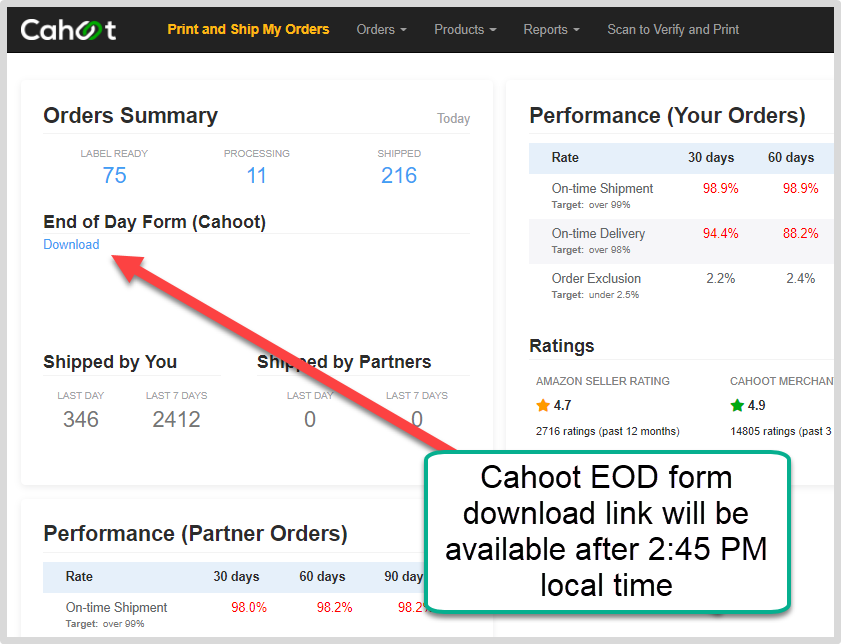 2. The Cahoot EOD form has a full list of today's Warehouse Exchange shipments across all carriers on the first page. Please compare it with the total number of Warehouse Exchange shipments you will hand off to carriers today.
Note: The Cahoot EOD form separates FedEx into Ground shipments and Express shipments as there are different pickups for these services.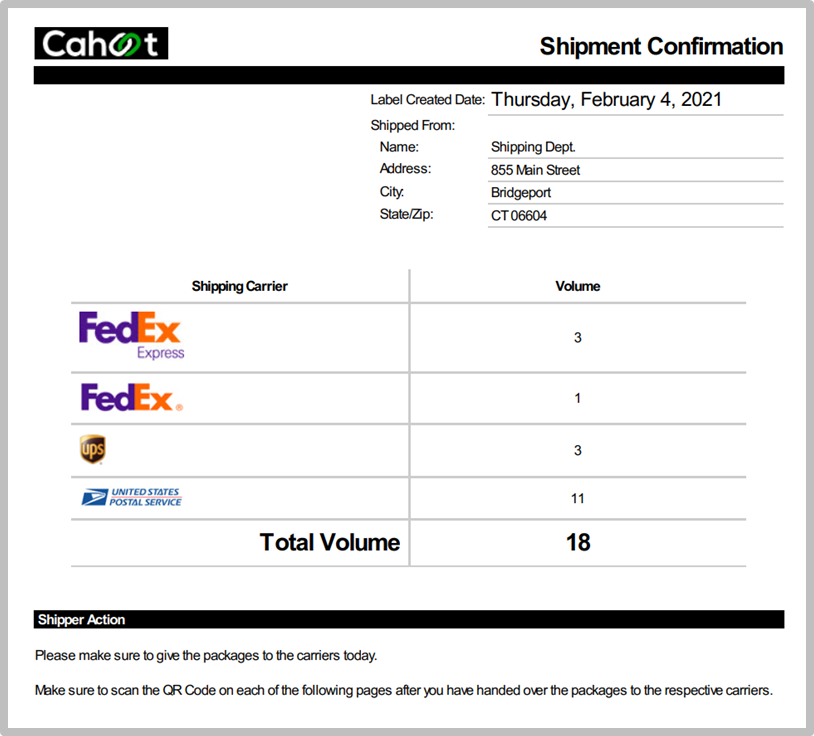 3. When each carrier's driver arrives to pick up packages, confirm that all Warehouse Exchange packages have been handed to the driver simply by scanning the QR code on each carrier page.

Note: You will have multiple QR codes if you have shipments for multiple carriers on a given day.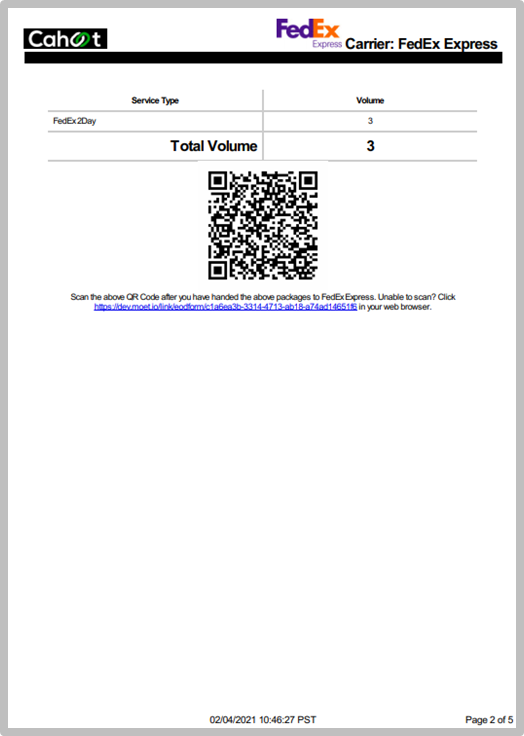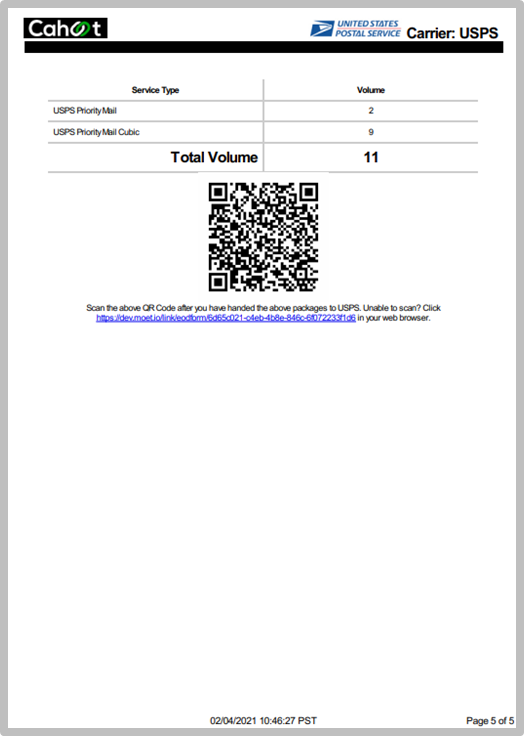 4. Follow the QR code link and verify you have handed over all the Warehouse Exchange orders to the carrier by clicking YES.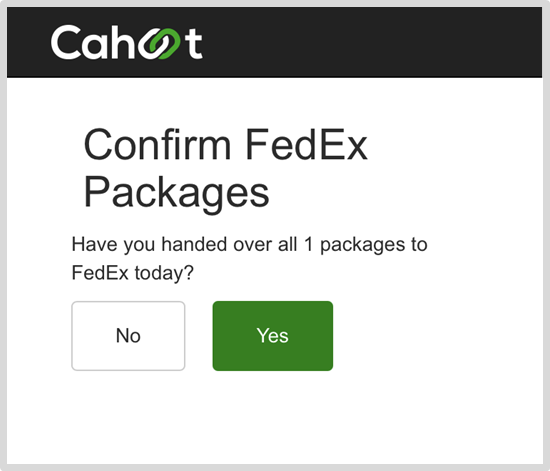 If there are any issues with handing over the packages to that carrier, select "No" and provide us with the details.
Note: If you cannot scan the QR code you can use the provided URL link to confirm the packages instead.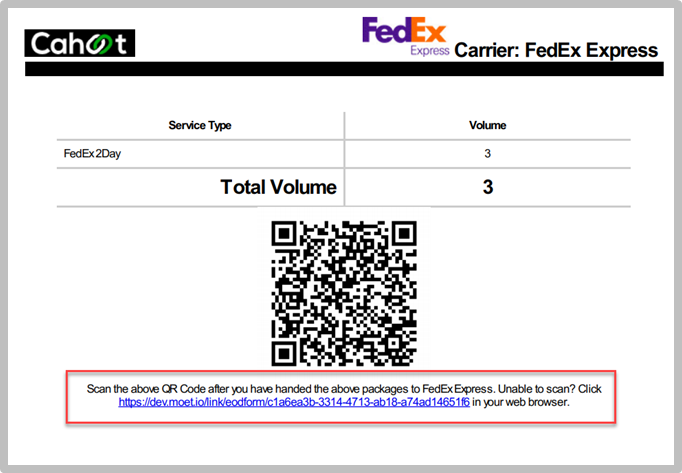 Accessing the Cahoot EOD form
Instead of using the Download link on the homepage, you can instead navigate to your Cahoot EOD form using the Top Navigation:
1. Go to Reports > End of Day Form (Cahoot).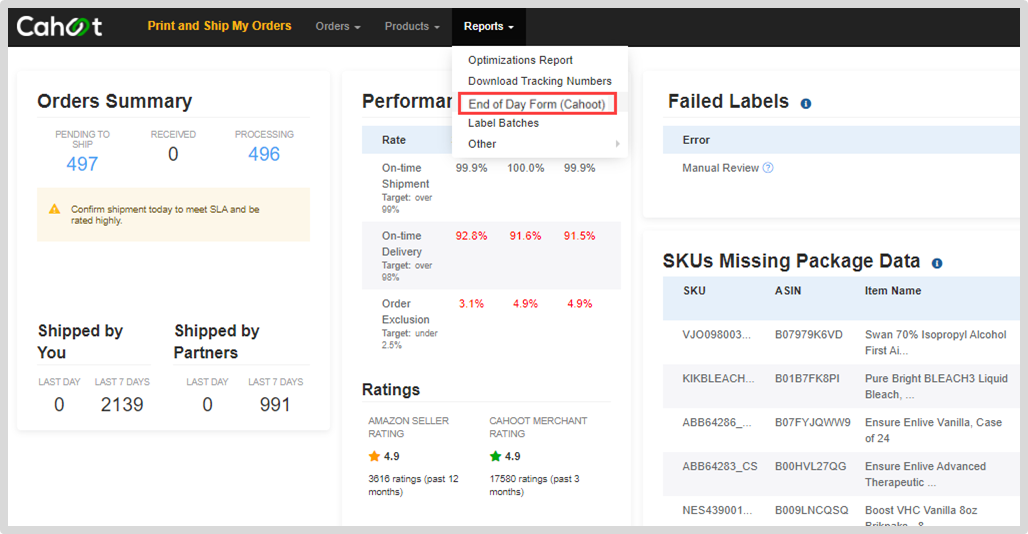 2. Click Print to download and print the Cahoot EOD form for today's shipments.