Connect Your GeekSeller Account
GeekSeller is a multichannel order management platform for eCommerce merchants. Cahoot's robust partnership with GeekSeller not only ensures that orders are seamlessly sent to Cahoot for fulfillment, but Cahoot merchants are also eligible for specially discounted GeekSeller pricing. If you already have a GeekSeller account, no worries, steps to connect your account to Cahoot are described below, though you might benefit financially from setting up a fresh GeekSeller account if Cahoot is only going to fulfill orders from specific channels.
Step-by-Step Guide
Creating a new GeekSeller account
1. Use the GeekSeller Integration Form for New Accounts to submit your request.
2. Cahoot will create your new GeekSeller account through our GeekSeller partnership and connect it to your Cahoot account. Cahoot Support will send your GeekSeller account details after configuration is complete.
3. You can choose whether or not you want to add new sales channels to your GeekSeller account and manage those listings and orders from one account. It's up to you. Once GeekSeller receives your orders, GeekSeller automatically pushes them into Cahoot.
Note: Your discounted GeekSeller subscription will be invoiced through Cahoot. Please make sure that you do not change the payment information in your GeekSeller account and do not send double payment to GeekSeller for invoices that appear in your new account.
Current Users
1. Use the GeekSeller Integration Form for Existing Accounts to create a Work Order for Cahoot Support to generate and assign Cahoot API Credentials that will be used to add the Cahoot Integration to your GeekSeller account. Cahoot Support will send them to you directly within 2 - 3 business days.

2. After you receive Cahoot API Credentials, log into masters.geekseller.com.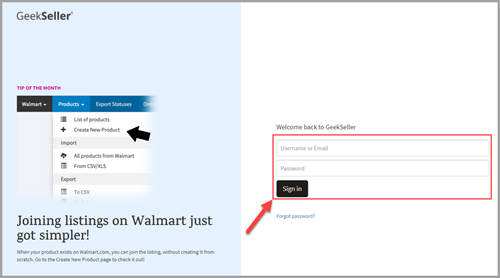 3. Navigate to My Account > Integrations.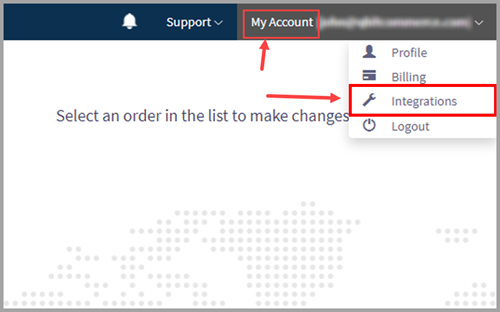 4. Select Add New Integration and search for Cahoot.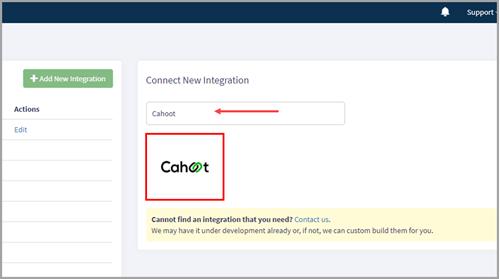 5. Enter the following information and click Request Activation.
a. Add your Cahoot Seller ID and Api Key to the Cahoot Integration setup window.
b. In the Additional Instructions field, enter the start date that GeekSeller should use to start sending your orders into Cahoot. All orders after this date will be sent to Cahoot automatically.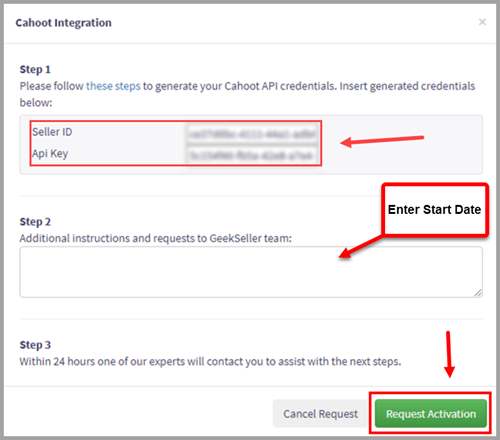 6. Please notify Cahoot Support after GeekSeller has finished the configuration as we do not get automatic notification.