Managing Warehouse Exchange Inventory in Cahoot
Monitoring Warehouse Exchange SKU Inventory in Cahoot is simple.
Cahoot will confirm that the inventory count sent to a CFP's location is accurate. Cahoot also automatically tracks inventory counts in real-time as orders are processed so that you can monitor and replenish inventory in advance of stock-outs.
Please note that Cahoot does NOT track inventory available outside of the Cahoot network; Cahoot only monitors inventory at Partner locations. This does not adjust for orders fulfilled outside of Cahoot.
Video Walkthrough
Your Inventory with Partners
1. Navigate to Products > Your Inventory with Partners.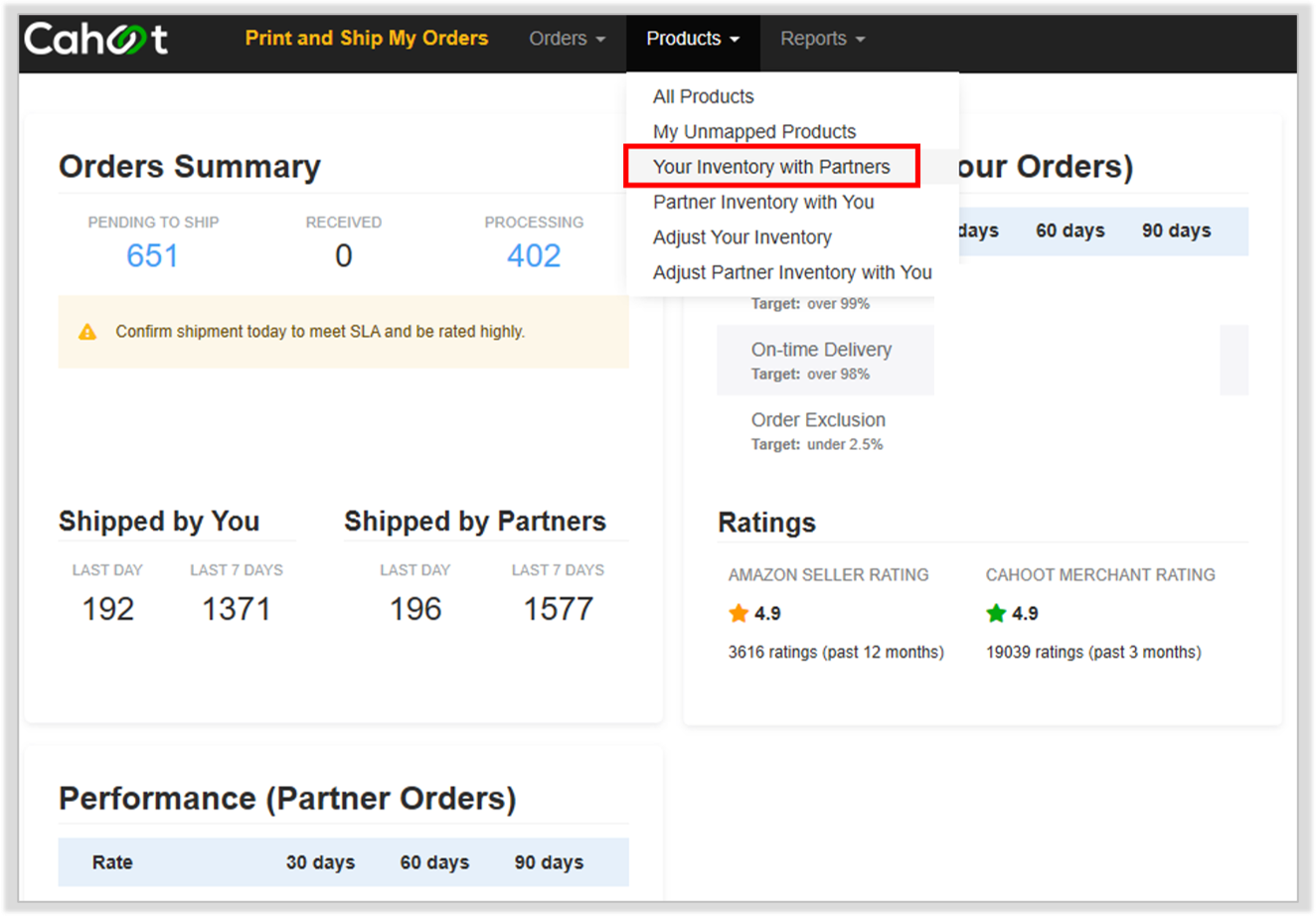 2. The Partner Quantity column shows your available inventory in real-time for each of your SKUs that are active through the Cahoot network. Each SKU will have its own entry for each Partner location.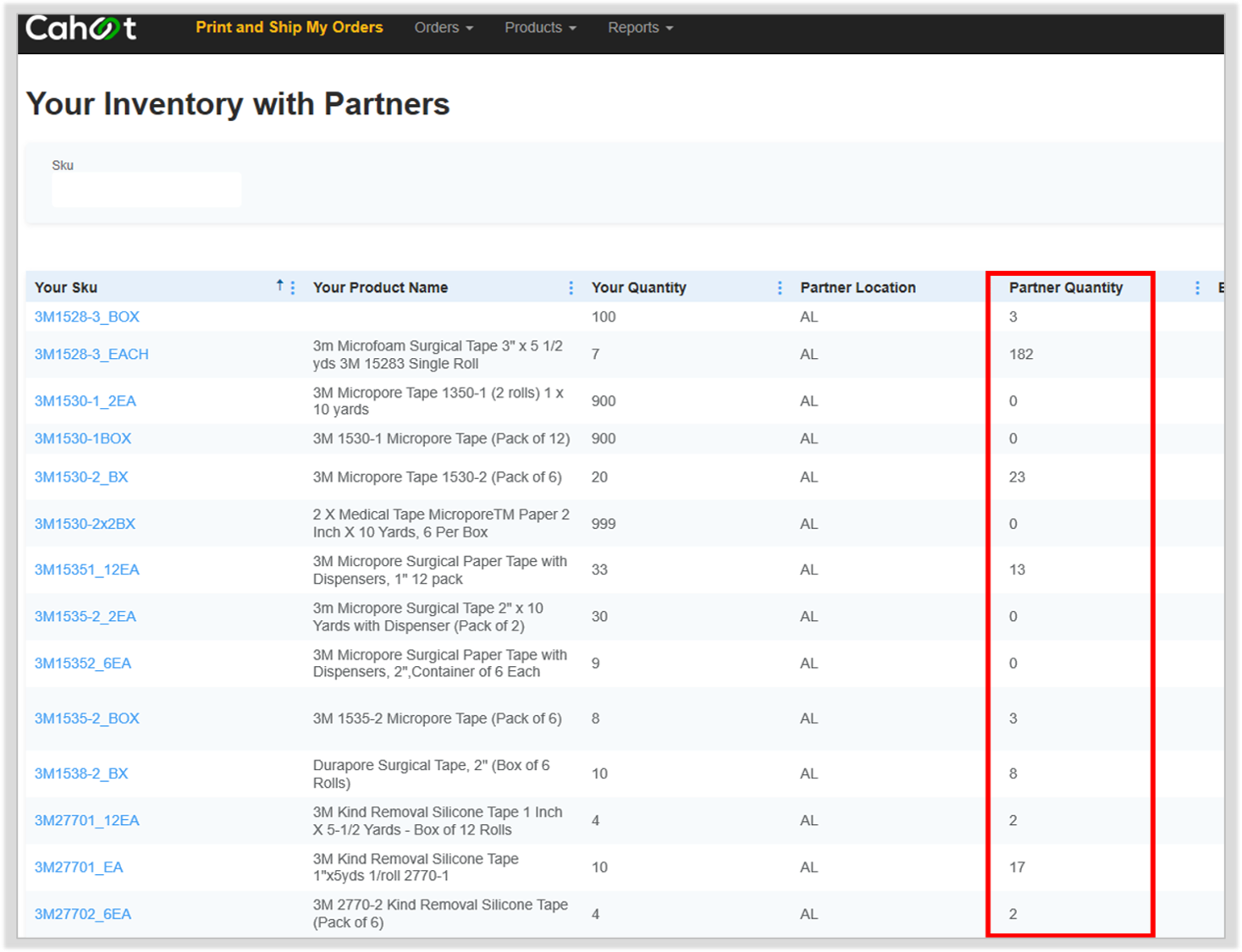 Note: Same-day orders' inventory is also decremented from the partner quantity column in real-time. Once an order is assigned to a Fulfillment Partner, the system deducts the Partner's Quantity by the order's qty.
3. If Partner Quantity for a SKU hits 0, that Partner location no longer has any available inventory for that SKU, and new orders cannot be fulfilled from that location until you send more inventory to your Partner. Be sure to monitor and provide additional inventory to your Partners before this happens.

4. Your inventory at Partner locations can also be assigned a Buffer Quantity to ensure no over-selling occurs. Once the inventory Partner Quantity reaches the Buffer Quantity, no additional orders will route to the Partner location for that SKU.
5. Your Quantity indicates whether you have inventory in your warehouse or not. Remember that Cahoot will NOT track this inventory. It is your responsibility to let Cahoot Support know when you receive or run out of inventory so your Fulfillment Partner can fulfill orders accordingly. Here are the guidelines Cahoot uses for updating the "Your Quantity" column:
0 - Seller does NOT have enough quantity to fulfill orders. All orders will be fulfilled by Cahoot.
1 - Seller is able to fulfill orders but inventory is low (ex. at or below safety stock).
100 - Seller is able to fulfill orders and has enough quantity available to not worry about inventory stockouts.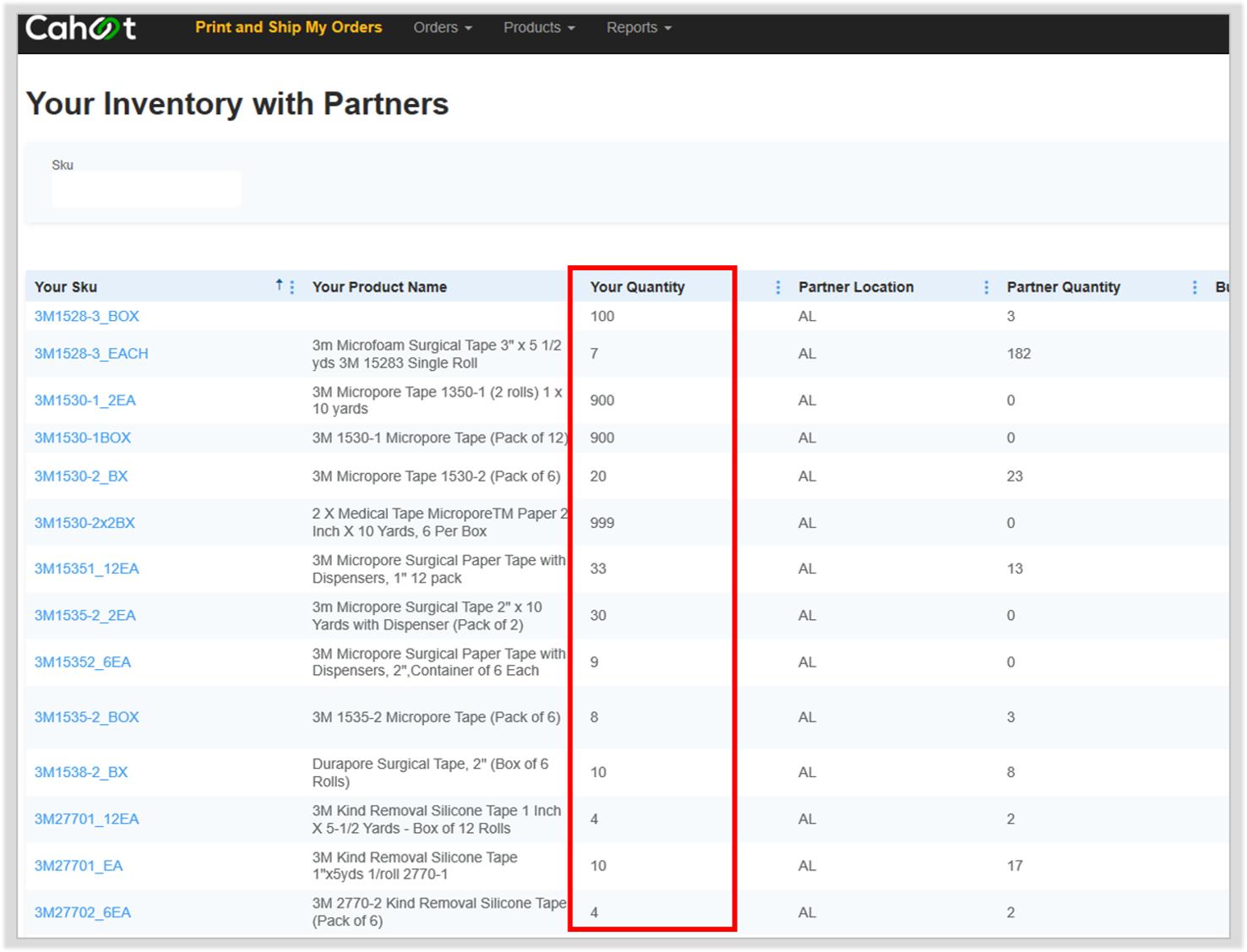 Note: Please make sure to NOT change any SKU or ASIN value for Warehouse Exchange SKUs without informing the Cahoot Support Team. It will break the Warehouse Exchange configuration and stop assigning orders to Fulfillment Partner locations.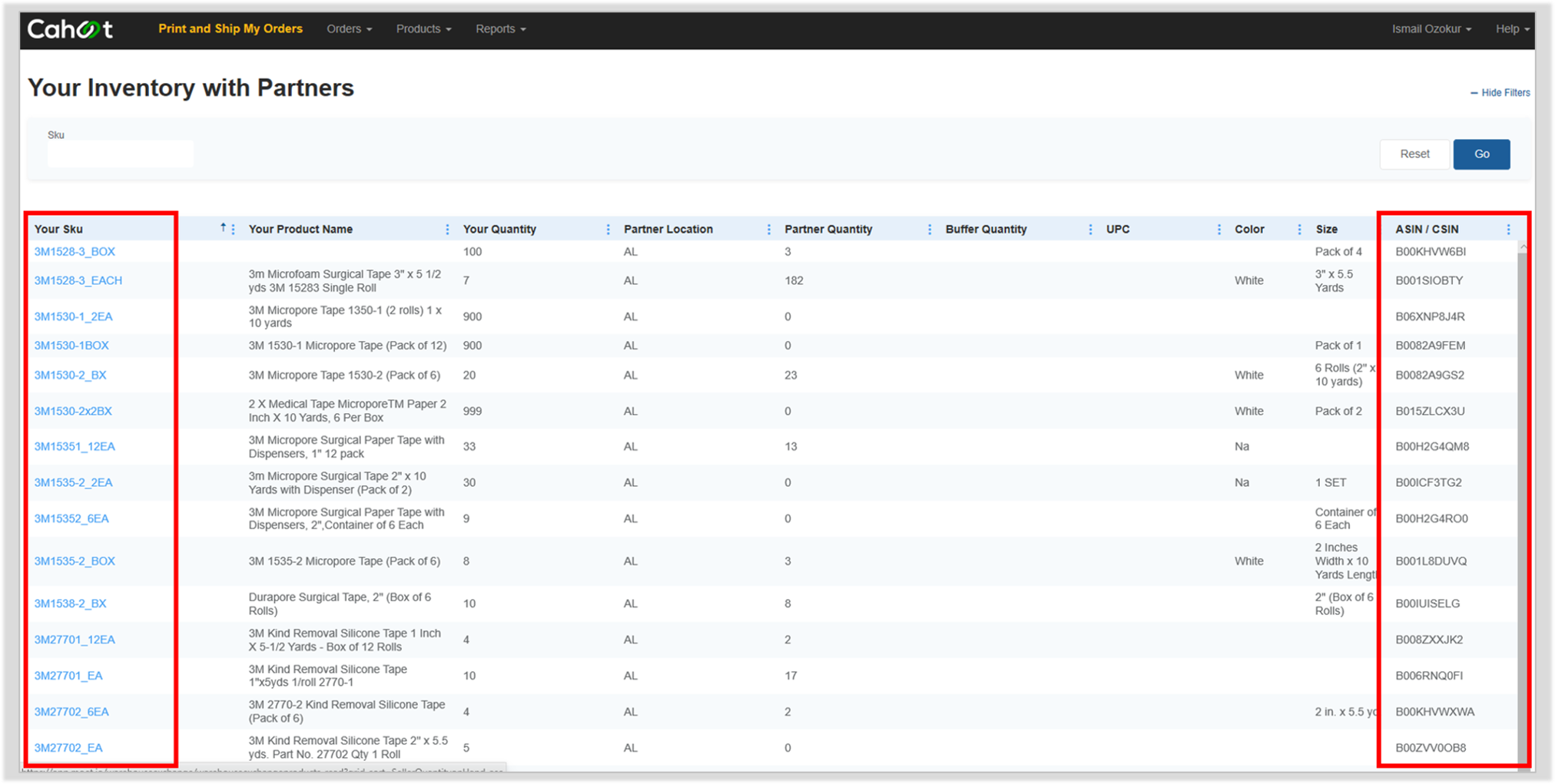 6. The Pkg Quantity column indicates the amount of packaging available at the Partner location. This is relevant if your SKU needs specific packaging that needs to be provided to the Partner. If the needed package qty is not available, the Cahoot partner can still fulfill your order through the network, although the savings may be impacted if the correct packaging is not available.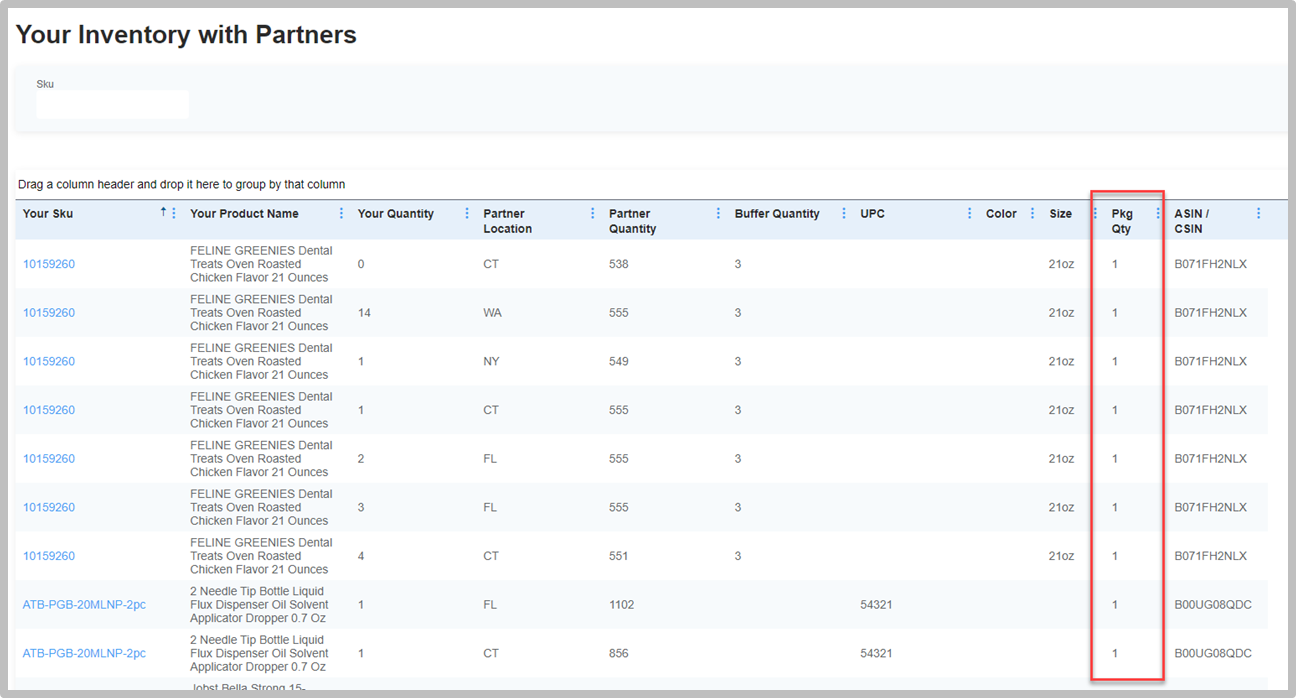 Partner Inventory with You
1. The Partner Inventory with You table shows the inventory that you are storing on behalf of your Cahoot partner(s).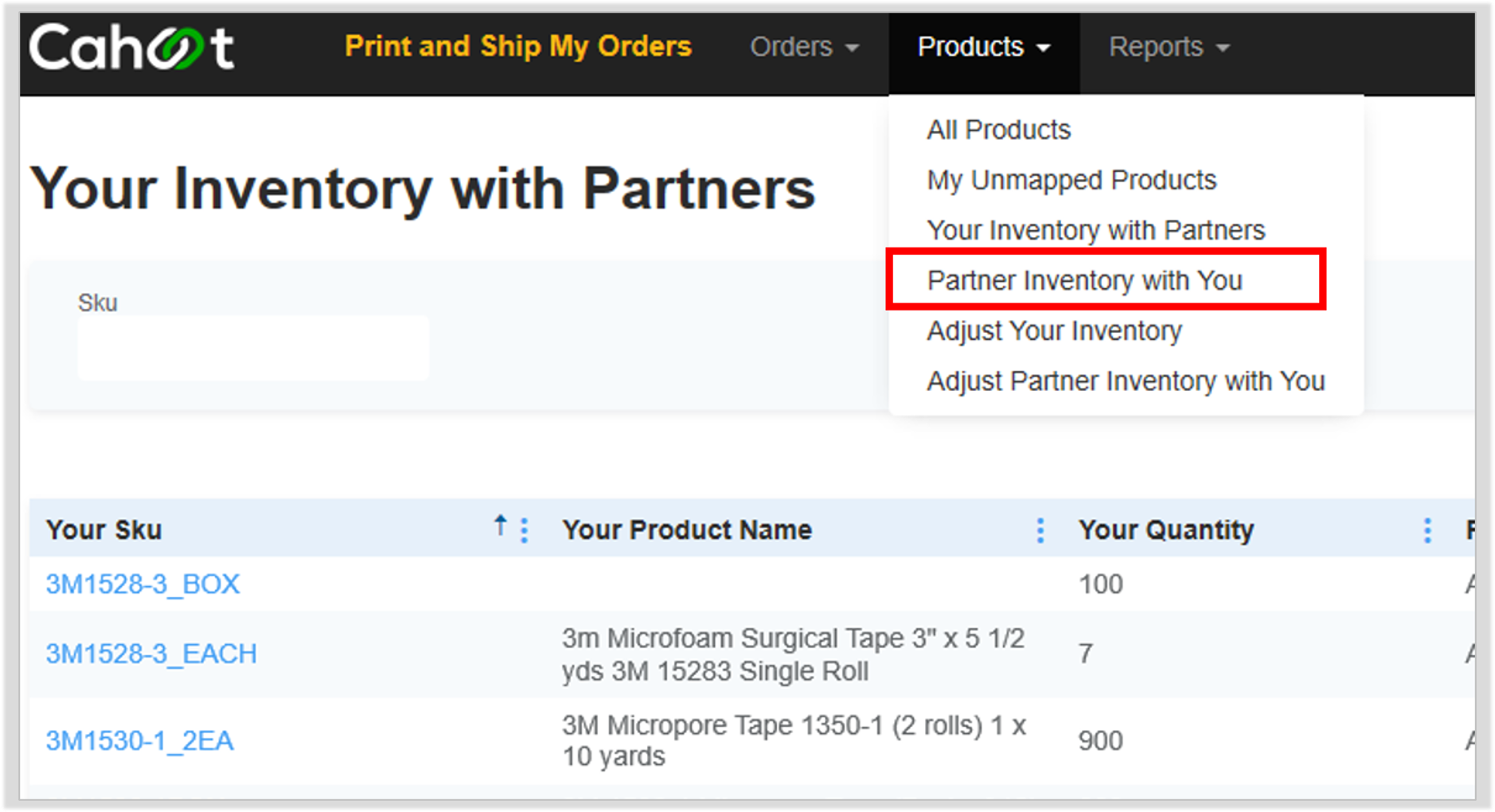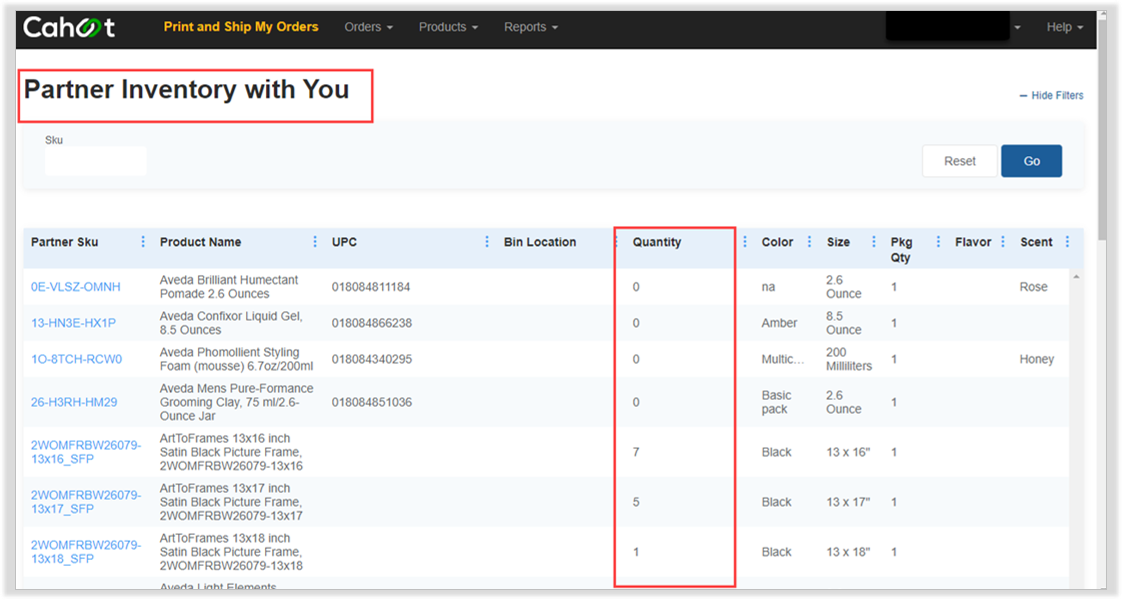 Cahoot requires periodic inventory audits to confirm the quantity counts of inventory you store on behalf of the Cahoot network.