By default, returned shipments for Cahoot orders are delivered to the Cahoot Returns Department in Bridgeport, Connecticut.
Every order that Cahoot recognizes as returned to our Returns Department is also tagged with the Order Tag, "Returned to Cahoot".
Cahoot may inspect the returned shipments for quality control purposes, so it is imperative that Cahoot orders are shipped according to the Merchant Code of Conduct as a condition of your participation in the Cahoot network.
If an order needs to be replaced, Sellers can choose whether to ship the replacement item themselves, or they can import a new order into Cahoot manually for fulfillment by Cahoot.
For orders that are returned to the CFP partner, Cahoot will assign the "Returned to Sender" order tag instead.
Finding Your Returns
You can find your returned orders by using the Violations report found on your homepage dashboard under Seller Violations as well as in Reports > Violations Reports. We understand that returns are a fact of life and not a violation, but placing returns here helps group them with other orders that are exceptions to the desired process.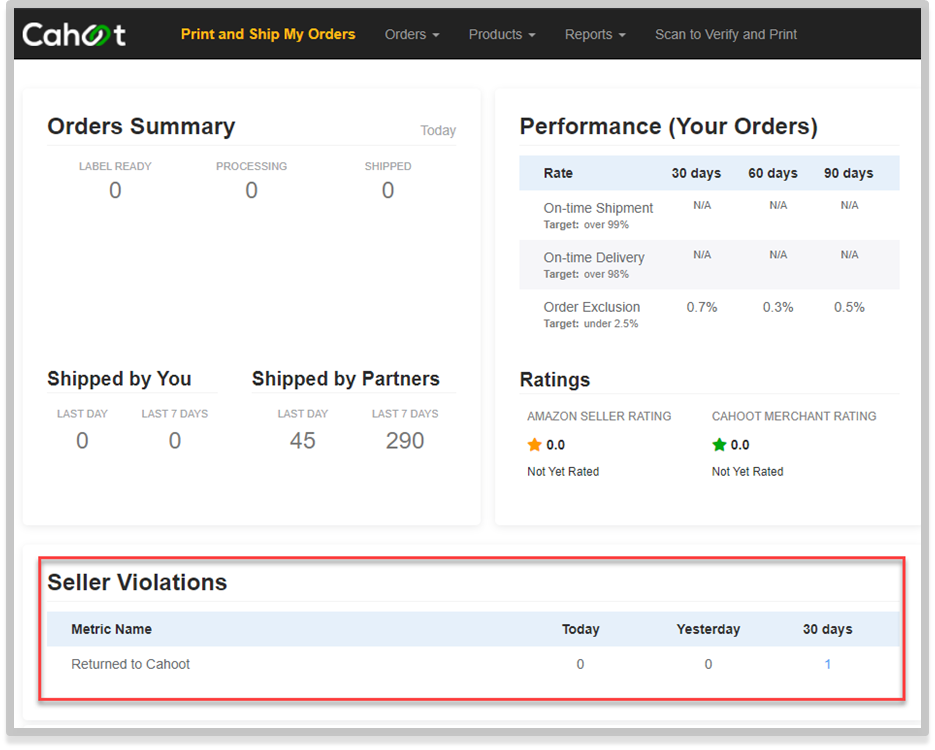 Clicking on the homepage dashboard will directly take you to the Violations Report. Make sure to select Returns and specify Your Orders in the top filters if you navigate to the report directly.
Note that you can use the top filters to specify the timeframe.