Why pick Shipsurance Cargo Insurance? Benefits Explained
Package Insurance protects merchants from damage to shipments while in transit. If packages are lost or damaged, carriers and 3rd party insurers will reimburse you for damages up to the purchased insurance amount.
By default, all merchant accounts purchase insurance directly from carriers. If you're interested in adding additional insurance through Shipsurance (at up to 85% cheaper than Carrier insurance), please contact support.
What is Shipsurance?
Shipsurance (an Assurant Company) is a leader in cargo insurance, and their shipping claims process is simple and quick.
Cargo insurance costs approximately $0.50 per $100.00 unit of coverage, per parcel for domestic packages and $0.75 per $100.00 for international packages.
What are the differences between Declared Value and Cargo insurance?
The insurance provided by carriers is Declared value, while Shipsurance provides Cargo insurance.
While there are several differences between the two, the main differences are
1. With declared value insurance, the shipper must prove the carrier's negligence directly resulted in the loss or damage to cargo. Cargo insurance pays damages regardless if the loss or damage was due to carrier negligence.
2. Declared value insurance only covers damages or loss in transit; once a package is marked "Delivered" the insurance is finished.
Cargo insurance still covers "Delivered" packages.
What are the true costs to using Shipsurance over free carrier insurance?
If we look at the free insurance offering provided by carriers, it seems like a great option for online sellers because they can now save on insurance. Even with the discounted shipping insurance coverage offered by Shipsurance, which is integrated with Cahoot, you can't compete with free coverage! Or can you?
Let's dive into this so-called "free" coverage. At first glance, saving $0.75 (the current Shipsurance rate through Cahoot) for a sub-$100 package is a no-brainer. However, what about if something happens to the shipment? What if it gets lost in transit? Damaged? What's the true cost of saving that $0.75?
Here's a list of issues we gathered from sellers that have filed a claim for the "free" coverage with USPS:
• Claims scanned as "Delivered" are automatically denied because they have a delivery scan.
• The recipient has to take the item to a local post office if it is damaged and they are not willing to participate.
• Reaching a human being on the telephone can be rather difficult when you want to discuss a claim. All systems are automated and callbacks are hard to come by.
• Claims that are paid may take up to six months for a payment to be made. (Remember, we are talking about claims valued at $100 and less that are taking this long.)

As you can see, while this "free" coverage didn't cost you anything monetarily, it becomes rather expensive when your precious time is spent following up with it. When the claim is denied, it now becomes an expense. Time is money, after all.
Taking advantage of the Shipsurance coverage built into Cahoot is a cost effective way to manage your shipping risk and avoid some of the pitfalls mentioned above. Coverage is available within the Cahoot software interface from the get go.
Carrier provided package insurance
Shipping carriers offer insurance for any package lost, stolen, or damaged, in transit. For many carrier services the first $100 of package value is covered automatically and doesn't cost anything. Additional package insurance past this amount can be purchased to cover any potential losses but this does increase label costs.
Note that not every carrier and method offer the same amount of free insurance. Here's a table covering all the major carriers and their services, showing how much insurance is automatically provided by the carrier:
| | | |
| --- | --- | --- |
| Carrier | Carrier Service | Shipping Carrier Liability |
| DHL | International | $0.00 |
| DHL Global Mail | Domestic | $0.00 |
| DHL Global Mail | International | $0.00 |
| FedEx | Domestic | $100.00 |
| FedEx | International | $100.00 |
| FedEx FIMS | International | $0.00 |
| FedEx Smart Post | Domestic | $0.00 |
| UPS | Domestic | $100.00 |
| UPS | International | $100.00 |
| UPS Mail Innovations | Domestic | $0.00 |
| UPS Mail Innovations | International | $0.00 |
| USPS | Domestic – First Class | $0.00 |
| USPS | Domestic – Traceable | $0.00 |
| USPS | Domestic – Priority Express Mail | $100.00 |
| USPS | International – First Class Mail | $0.00 |
| USPS | International - Priority Mail | $0.00 |
| USPS | International – Priority Express Mail | $200.00 |
For example, this means that USPS Priority Mail offers no free carrier insurance, but USPS Priority Express offers $100 free insurance domestically, and $200 internationally.
You can see the type of insurance your account is configured to use by reviewing any product's package manager details, or from the label generation screen as well.

Configuring insurance type in Cahoot
Cahoot allows 3 options for insurance:
1. Only purchase insurance through shipping carriers
2. Use default insurance through carriers, any additional insurance through Shipsurance
3. Purchase all insurance through Shipsurance, ignoring carrier insurance
This is configured on the account level and applies to all orders.
Normally, Shipsurance provides additional insurance beyond what is provided from the carrier (if any). For example, if you insure a FedEx Home Delivery package for $300, the first $100 will be covered by the carrier, and the remaining $200 covered from Shipsurance.
If you have all insurance going through Shipsurance instead, the full $300 will be covered by Shipsurance.
Configuring insurance for SKUs and labels in Cahoot
Insurance is configured as part of the SKU Package Manager details, where you can specify each SKU's default insurance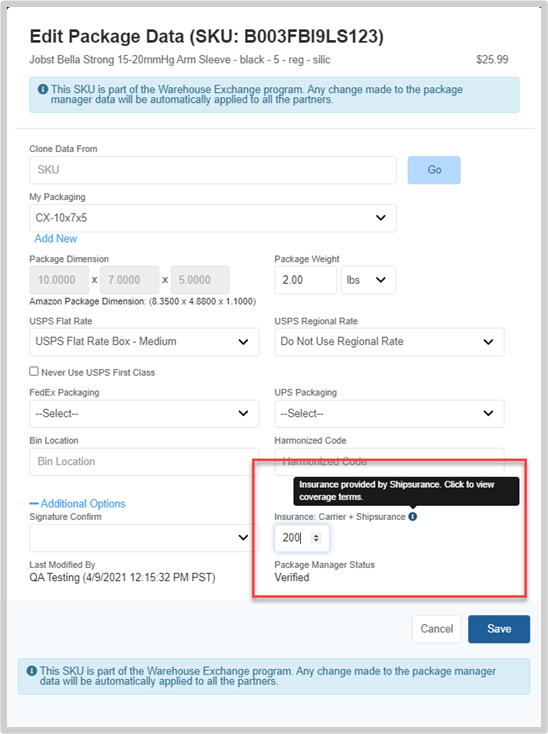 The package manager's insurance will be automatically summed for any orders that contain this SKU; if there are multiple SKUs or multiple qty, then the insurance will be totaled for the final insurance cost of the label, but you can also manually specify insurance for any given label as needed on label generation: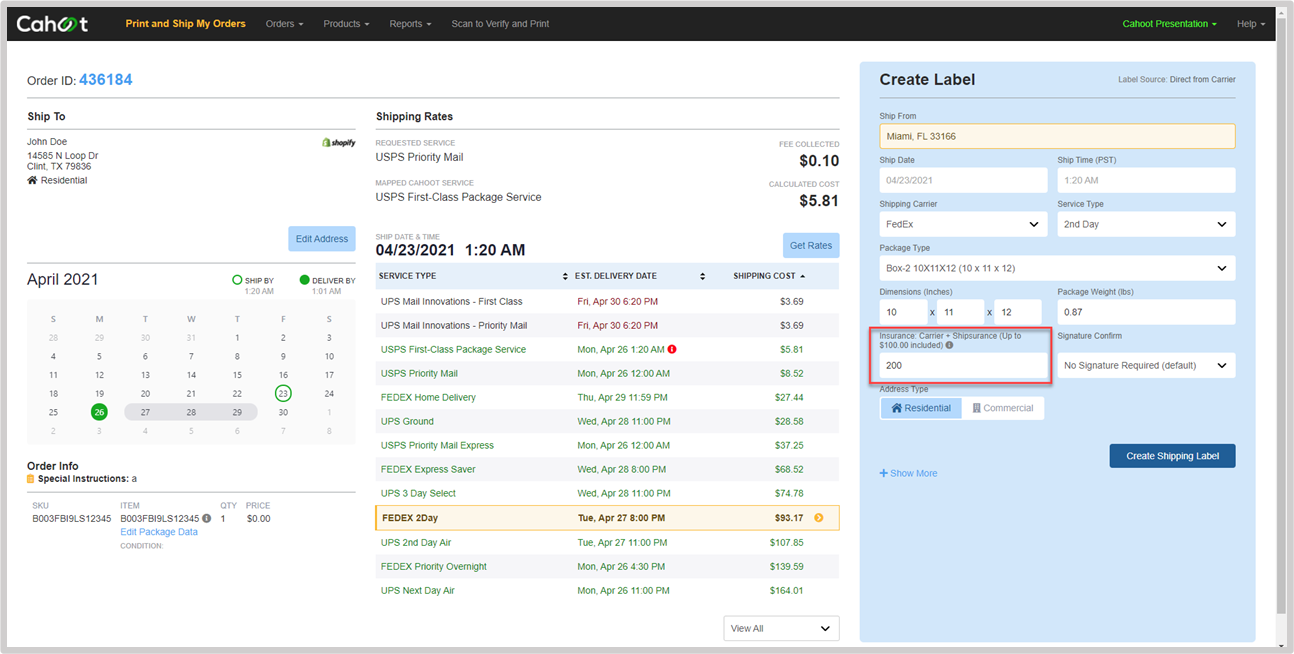 If the carrier and shipping method selected provide default insurance, and your account is configured to use default carrier insurance in any capacity, you'll see the carrier provided insurance here (example: FedEx 2nd Day Air, up to $100 carrier insurance provided):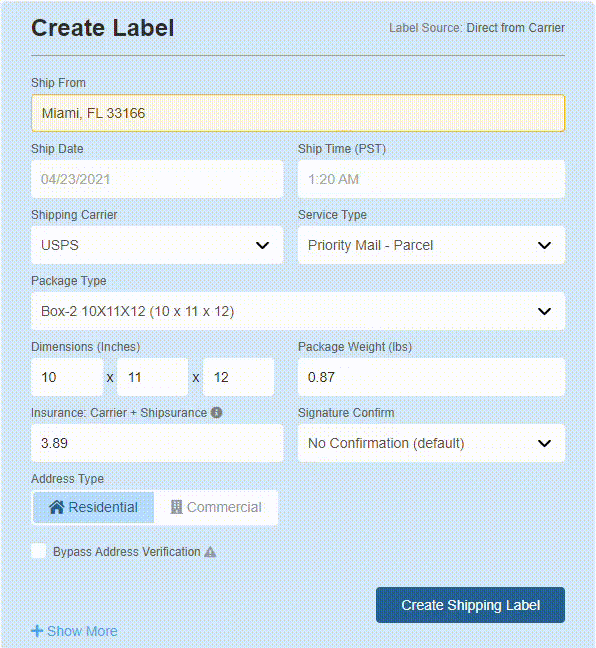 If the carrier and service selected do NOT provide insurance coverage, you'll see this message instead (example: UPS Priority Mail, no carrier insurance provided):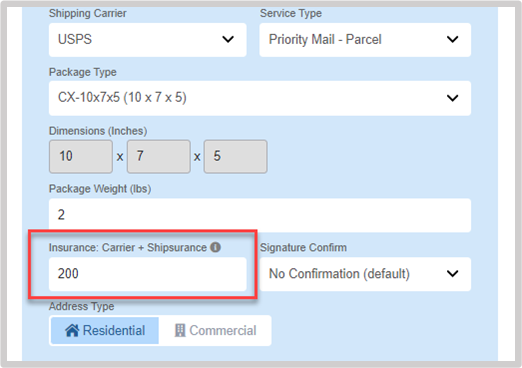 Once the label is generated, you can see the insurance details within the Order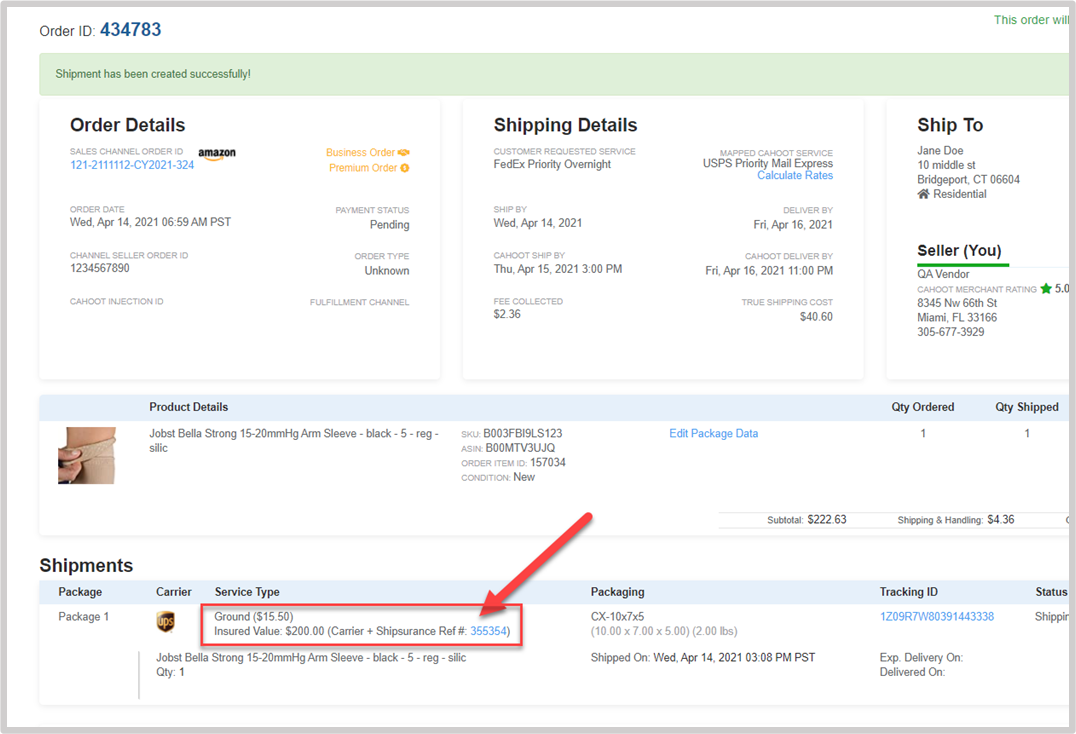 As well as from any Order grid:

How to submit an insurance claim
Insurance claims are done for carrier insurance directly on their websites;
You'll need to complete this first if you want to also process a Shipsurance claim.
In order to process a Shipsurance claim, simply click on the link within the order details to start the claim process: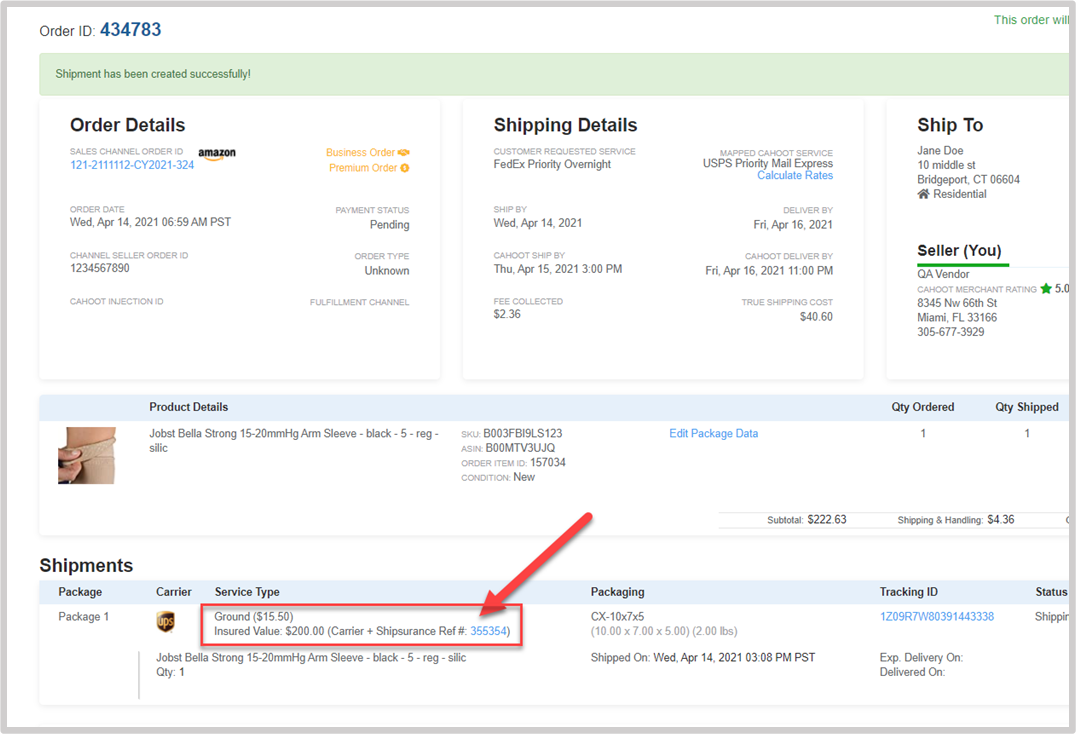 Following the link takes you to the Shipsurance claim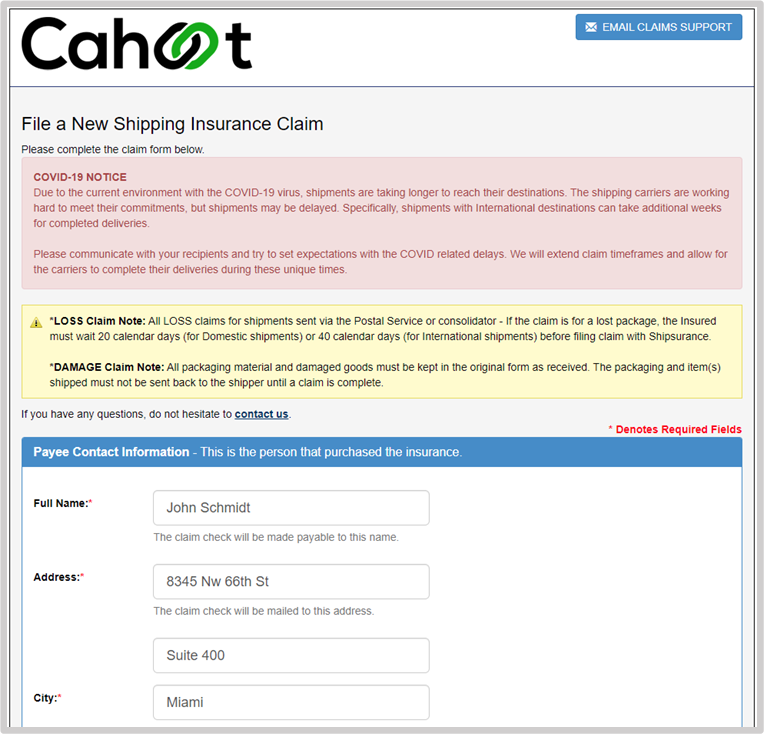 The form will pre-populate the fields based on the details of the order, but some fields need to be filled out with the specifics of the claim

Please ensure all fields are properly filled in, including the carrier claim number from the carrier claim.
Reminder: Carrier insurance claims need to be started first, if you had package insurance from both the carrier and Shipsurance.
Once you've submitted your claim, you will receive a confirmation from Shipsurance and further updates from them directly in regards to the status of your claim.
Shipsurance terms and conditions
Shipsurance terms and conditions can be found by clicking on the popup link on SKU package manager details as well as from the Label Generation page.

In addition, here is a direct link to their terms and conditions:
https://www.shipsurance.com/cahoot/terms